mISSION
Joyful expressionist paintings balance darkness and Light. My paintings hold this balance. In them we feel the emotions, the kinetic energy of flickering light and shadow. Using layers of fluid transparent color, I begin each painting with emotion of the present moment. I dive into this flow with my palette of chakra-aigned pigments. Each canvas a mirror of the Light within aligns chakra wavelengths as we view our own reflection in the paitnings.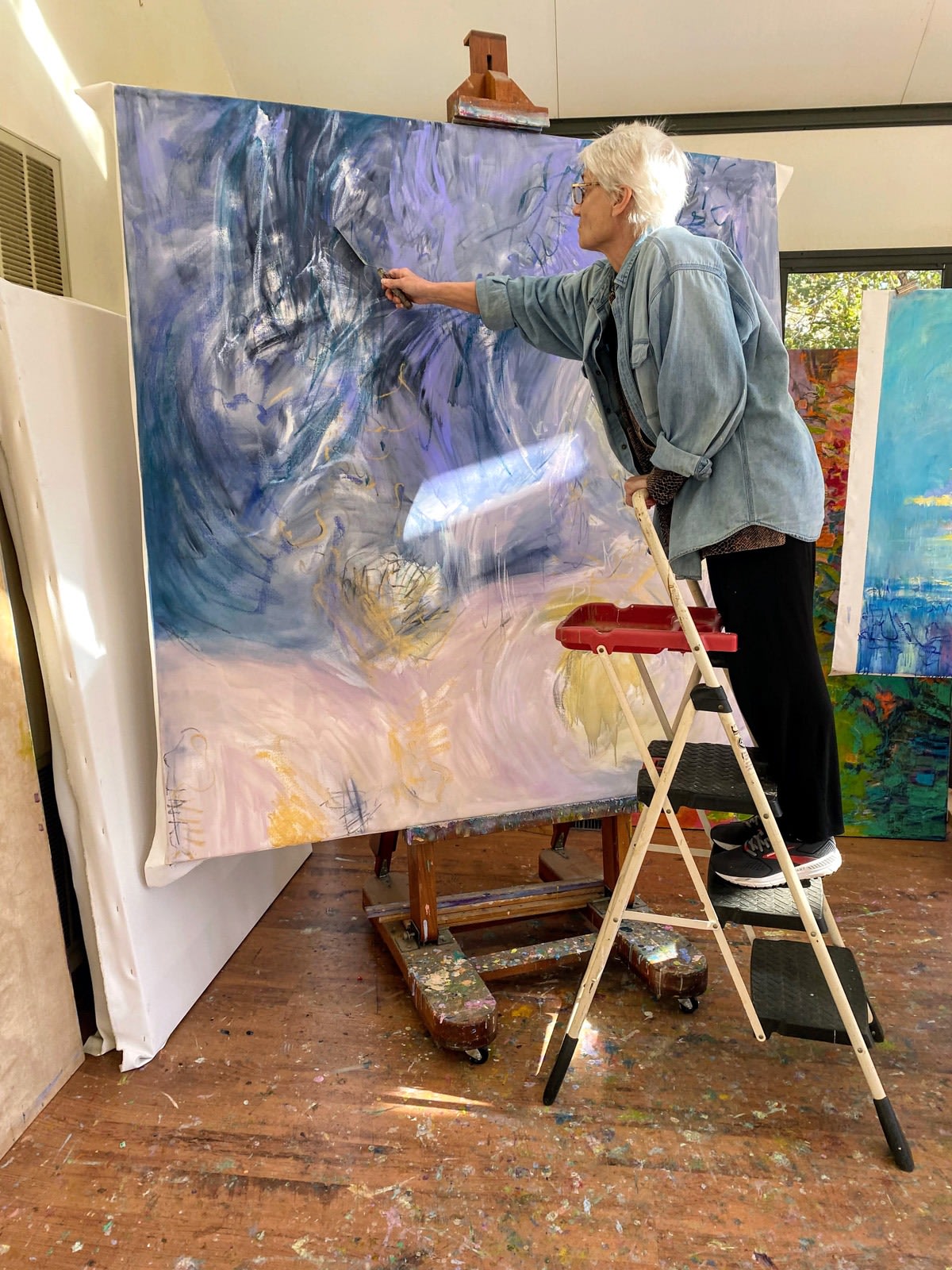 With twigs of willow charcoal, I make my mark, my calligraphy etched into wet paint. Being in this place, in the flow; I feel my hand as a geiger counter, the point of the needle recording on the page today's readout. My experience of the present moment, sacred, honored, at peace.
There is a very personal intimate conversation with my Creatrix going on in my paintings. Indeed, the darkess of life is not gone. Through art it is balanced. Each day as I face the darkness, the mirror of art lets the Light out from within.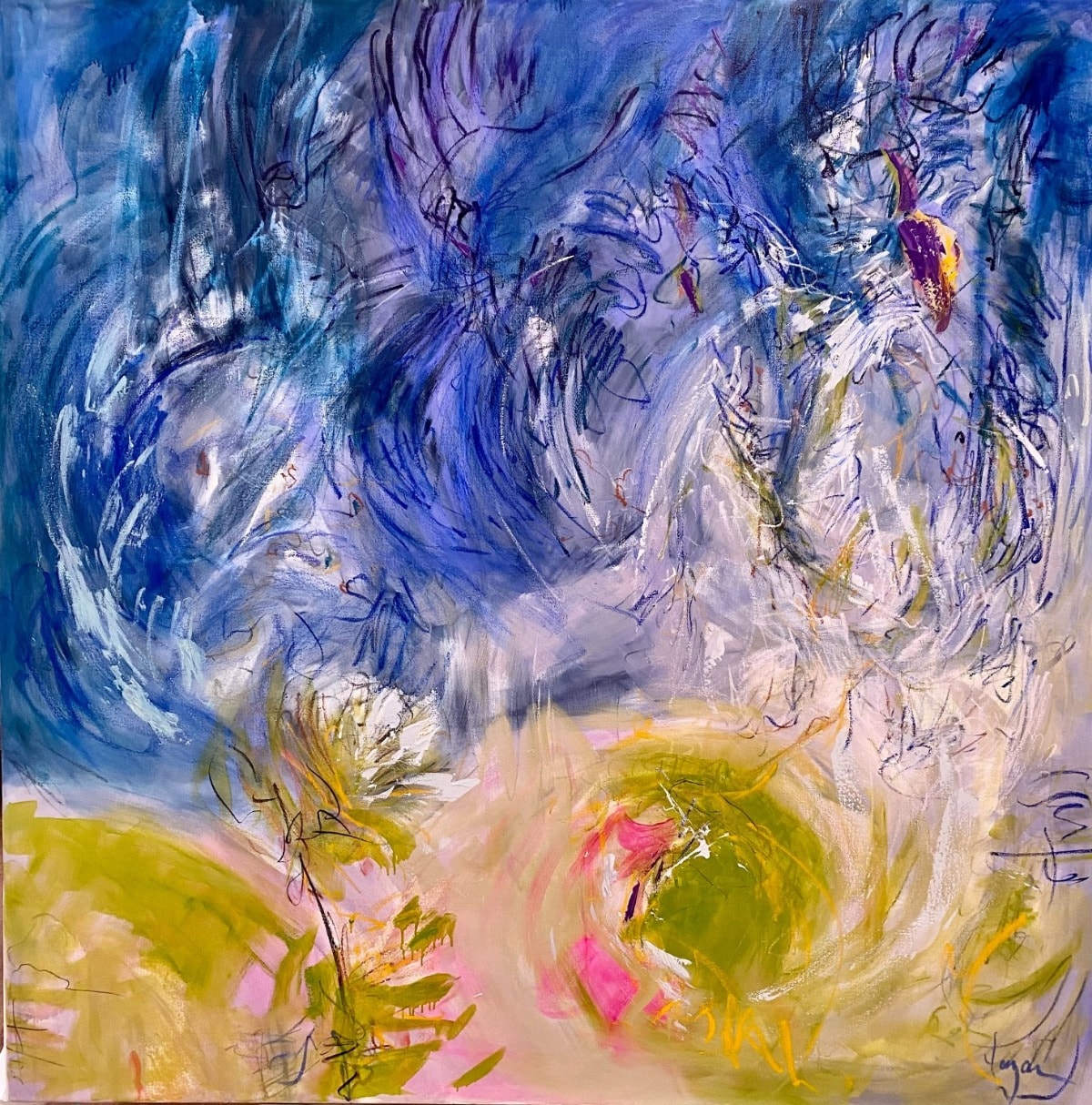 Join'd We Light the Night, Oil on canvas, 72" x 72"
The healing mission of my artistry found me in my darkest days. To transform darkness into light, I used my paintbrush. With each stroke of emotion, pigments gave form to the Light within me. Color by color, chakra by chakra; the Light within me brightened, shadows receded. Balancing shadows and light on canvas, the healing mission of my artistry emerged.
Graduating with my BFA in Printmaking and Painting from East Carolina University in 1974, I thought I was well on my way to becoming the artist I'd dreamed of being. And yet I had no idea of the mission of my artistry. This was not discussed in art school. The notion that an artistic gift is granted with purpose never crossed my mind.
I moved on to a tiny southern town in Virginia. I entered my pastel paintings in national juried exhibitions in New York, Boston, and Canada. I was thrilled when my art was accepted, and I attended the opening of The Pastel Society of America International Exhibition at the National Arts Club in Manhattan!
Back home I focused on my daily duties, changing diapers and painting at naptime. When the youngest of three started school, I rented a studio in town. On my first day an assailant's knife sliced a detour. Bound and gagged, screams choked me and my ability to paint the delicate abstract landscapes I'd painted the day before.
At home I feared going to the clothesline by myself. At naptime I found refuge, grabbing my pastels and screaming them into gritty sanded paper. Textured papers, earthy colors of my garden felt soothing, satisfying something deep inside me.
A few years later I needed that refuge as my mother fought cancer. I found sanctuary painting in the garden of a friend. Between tears each color comforted me. After Mom passed I'd see her in the light, feel her in the sparkle. She'd send me messages, drawing me in to paint on fabric. As a child she'd taken me to painting lessons, taught me to sew, to be all I am.
Still with me on our soul sister mission ~ forever joined reaching through the veil to be all we are right here, right now.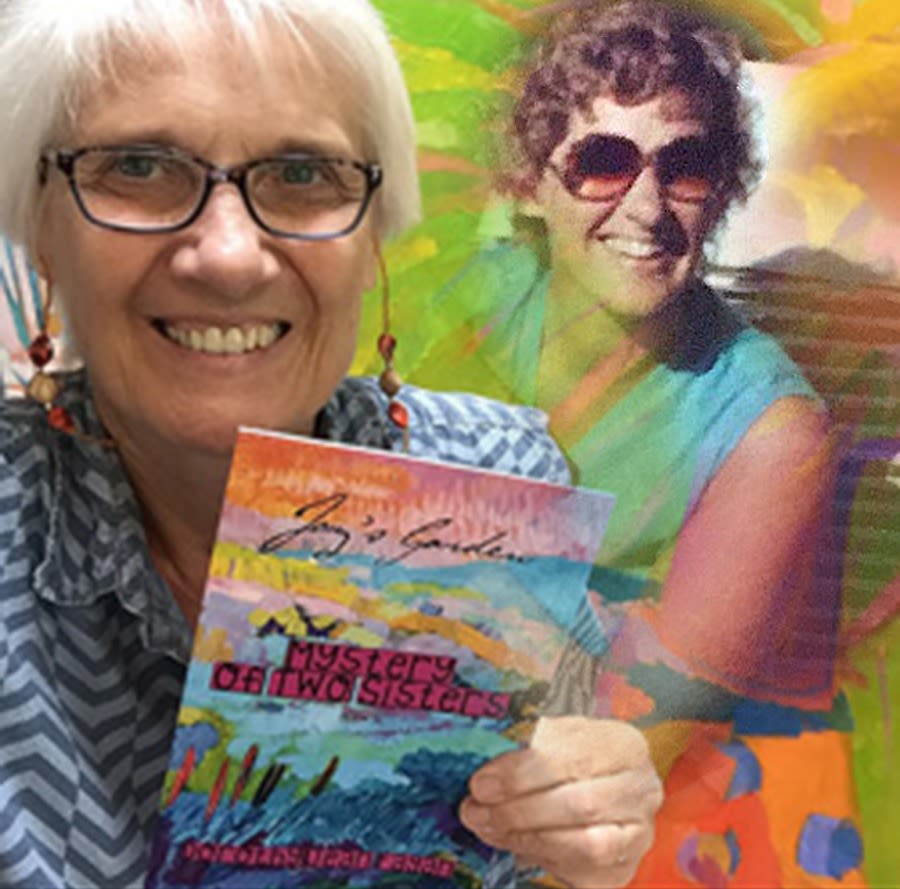 Pauline Fagan 1929 - 1989
Mystery of Two Sisters
peeks into my journal at the clues Mom sent me.