Discover
joy's garden
expressionist colorist
artist dorothy fagan
healing art for america
Activate Your
vibrant creativity
with Color.
In an oversize oil painting diptych called "Waking in the Meadow" and "Fledgling," Dorothy Fagan prays for peace with each stroke of her paintbrush.
Immediately one feels the effect of Dorothy's chakra-aligned palette ~ uplifting and peaceful ~ all at once creative energy rising through the body in gentle waves.
Many of her paintings are created in pairs. Like twins, they stand together or alone, echoing the manifestation of a dream and the prayer.
The Meadow a symbol of the sacred space from which she draws inspiration for her paintings . . .
her wildflower garden
beside the pond.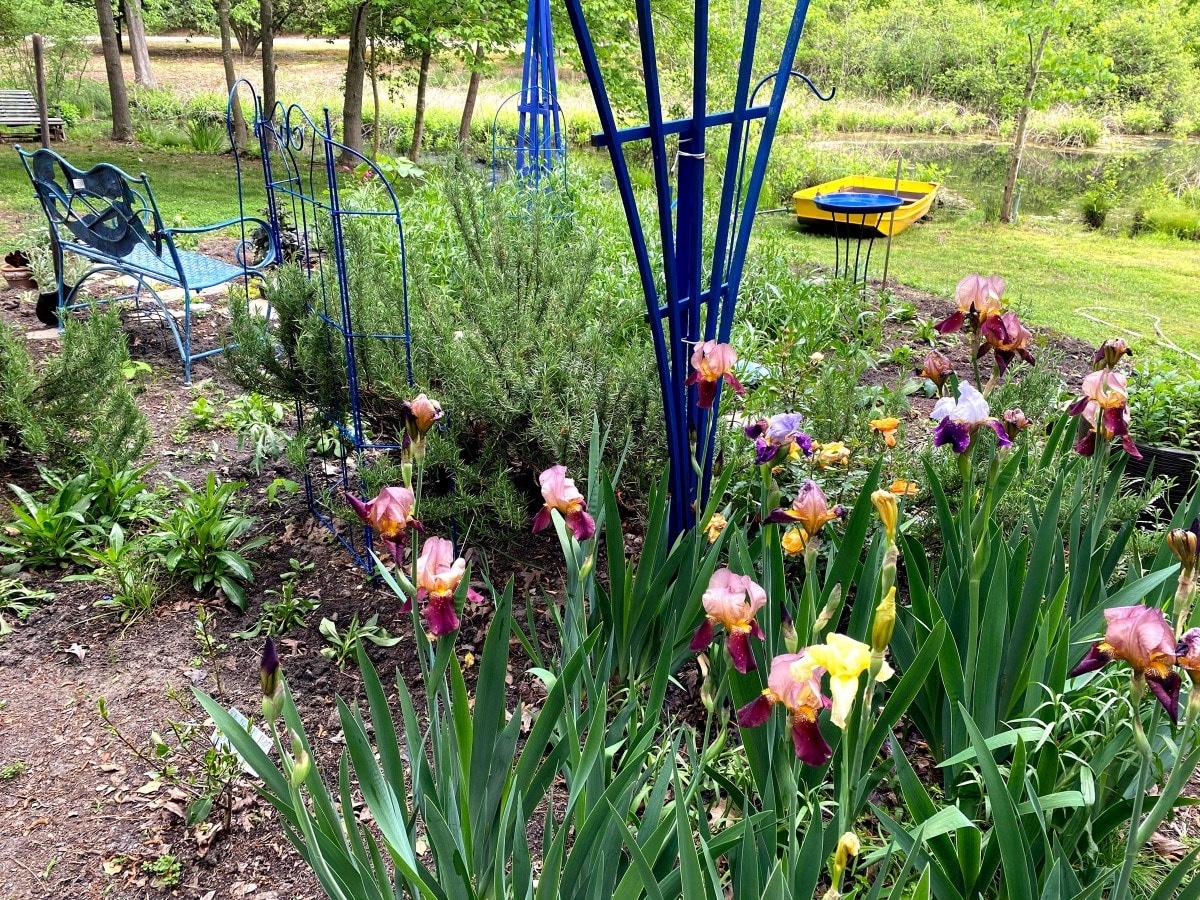 "Sitting centered in my garden, dreams, memories and snippets of day to day life spark simultaneously. I feel warm and joyful. I feel compelled to get up and express it with thick strokes of buttery paint.
Instead of coloring inside the lines, I begin by expressing colors I feel. Then I carve lines and textures with a twig of willow charcoal . . . until I feel a visceral kind of peace."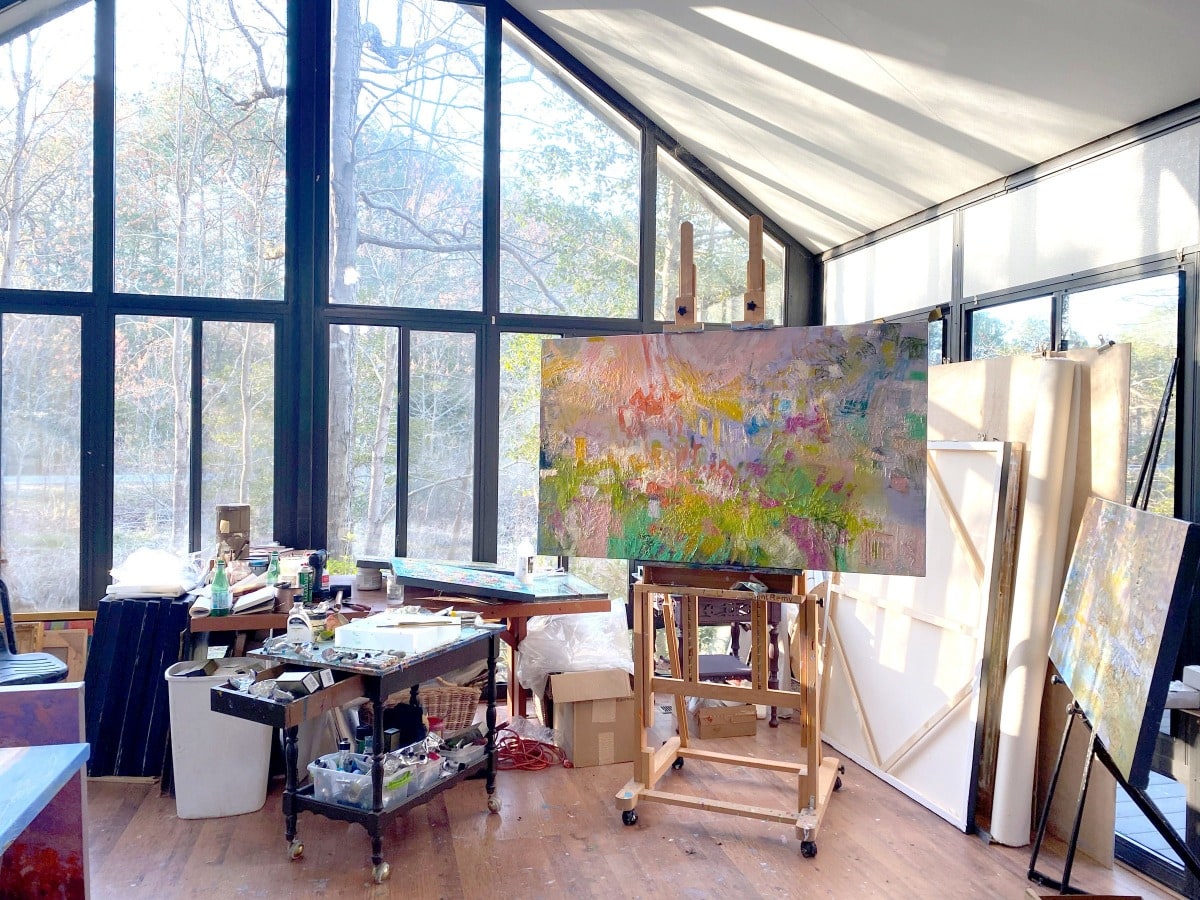 Dorothy first began using color to heal decades ago after an attack on her life. Imagining each painting as a mirror, she feels emotional colors ~ warm and cool, light and dark, creating balance in her own body of reflections ~ transforming trauma into peaceful energizing art for a world in need.


"Dorothy's work
is priceless, precious and heartfelt . . . a gift to this world."
~ Lisa S, TN



See Inside Dorothy's Studio by the Pond
WATCH THE VIDEO & see all the paintings that go into creating a six foot painting.
"I love your work and feel such an affinity for your life and message. There are so many of your paintings I didn't purchase that I wish, now, I had!


"I am getting these and am so pleased. Thank you, so much!"
~ Jeannelle, Boise, ID
The Star of Our Great Room!
"We love these! Joyful Morning and Heavenly Day bring so much color and life to our great room."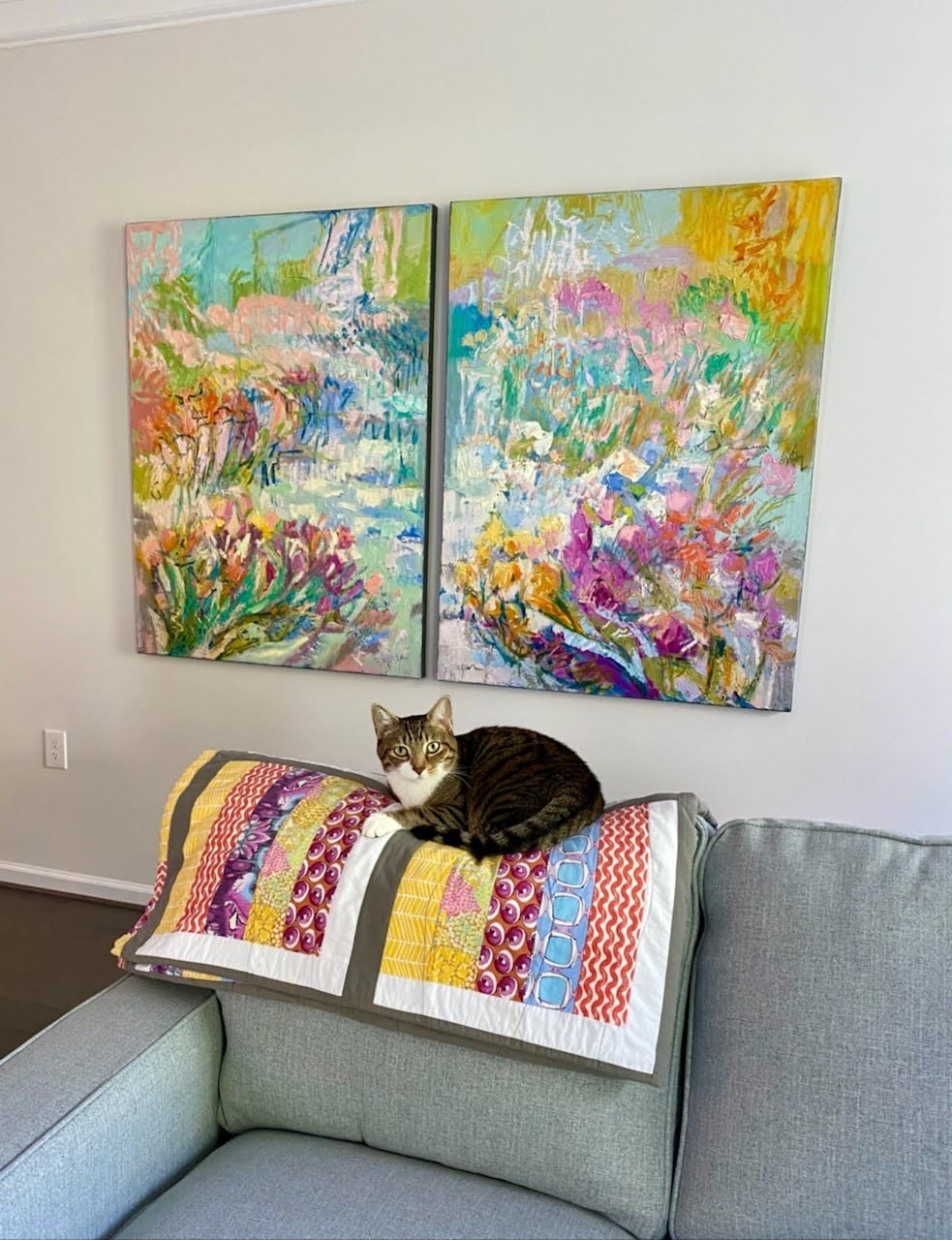 "​We are very excited about the decision to do a commissioned painting! We love the luminous quality of the sky & fields, the bold rooftop colors of oranges, corals & reds, and the deep purples & teal. It is truly the star of our great room space!"
~ MJ & Bob, Richmond, VA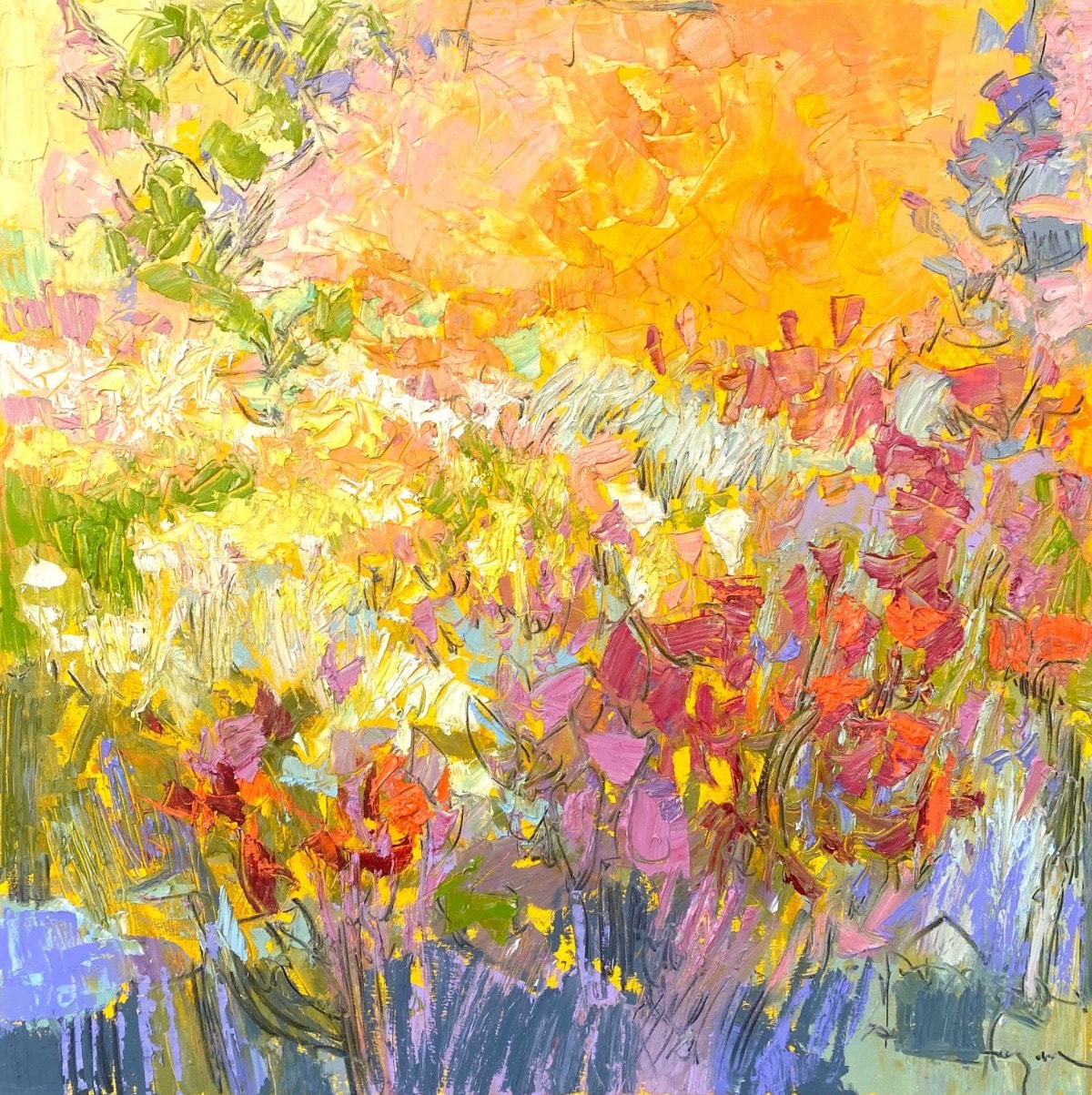 MEADOW SERIES
Feel warm soft buttery oil paint of these expressive textured paintings. Relish in passionate strokes of palette knife and linear details carved with twigs of willow charcoal.
Shop available paintings in the Meadow Series.
Join Joy's Garden Studio
If you DREAM of feeling energized by a home that reflects YOUR colors & passion, join my mailing list and start transforming your home today.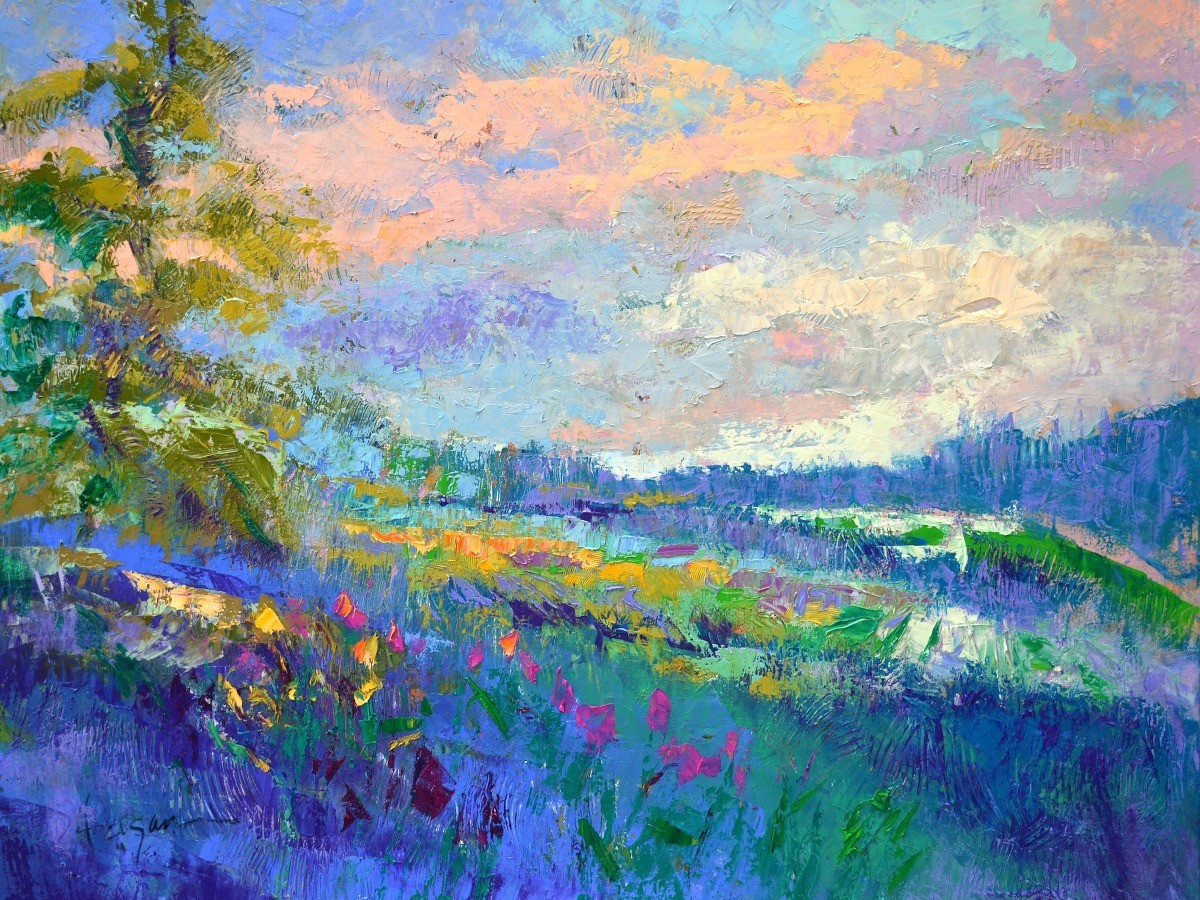 The Watershed
A Family Legacy in Full Bloom
Experience the watershed as you step into the paintings and poetry that brought Dorothy's artistry into full bloom.
Dorothy Fagan
EXPRESSIONIST COLORIST HEALING ARTIST
Dorothy Fagan knew she would be an artist in the second grade, when the nuns encouraged her to copy a picture of the Virgin Mary on the chalkboard. As a young mother, she won recognition for her abstract pastels at Pastel Society of America, Pastel Society of Canada, Copley Society, and the National Arts Club in New York.
But when an assailant's knife threatened her life, Dorothy lost her ability to paint her delicate abstract pastel landscapes. Inexpressible emotions screamed in silence, catapulting her on an incredible healing art journey. Releasing emotions into strokes of pure pigment, she discovered the reality of heart and soul in the flow of colors..
On an artist residency in France, Dorothy found new direction for her artistry. Juxtaposing ancient man-made structures with her landscapes, she began exploring the relationship between human and divine in paintings and writings. Realigning her palette with the chakras, she discovered her true artistry as a portal for the Light.
Studying painting and music as a child, Dorothy completed her B.F.A. in Printmaking and Painting at East Carolina University in 1974. In a ten-year American Masters Painting Mentorship from 1979 - 89, Robert Bowers Mayo guided Dorothy to look inside herself for inspiration.
Fagan's art stands apart in international exhibitions most recently at DressME at MADS Gallery in Milan, Italy, HerStory 2020-2021 at Manhattan Arts International , and Art Ideal, at Circle Foundation, France, and in permanent collections of Musee de La Grande Vigne, Dinan, France; U Mass. Memorial Research Center, City University of New York, and Longwood University Art Museum, and numerous corporate and private collections.