at the easel
with Dorothy Fagan
Paradise Rising from Winter Solstice
I started this painting a year ago, but until this week I didn't see why I'd called it Rising. While painting my Winter Solstice canvases mid December, I found myself thinking more and more about painting back into it.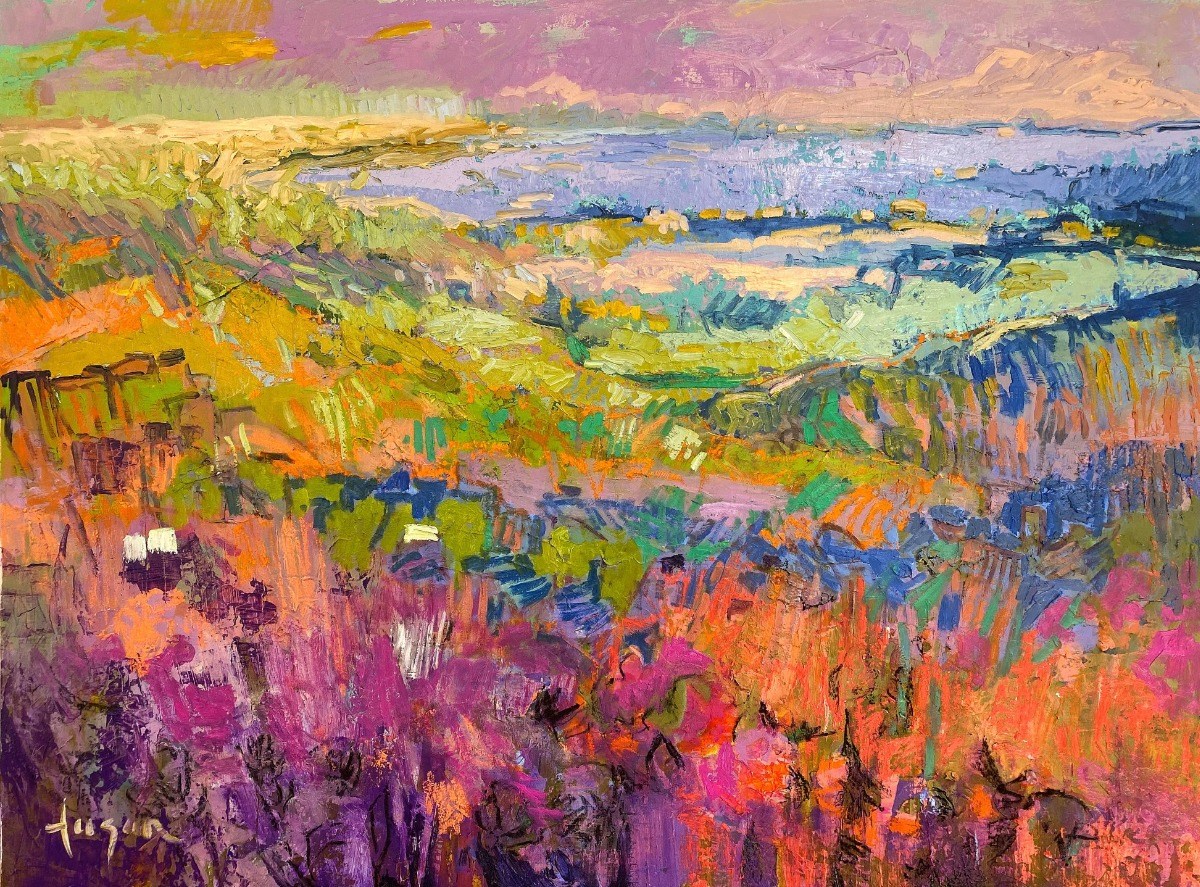 At the easel I found myself entranced in strokes of deep purple and corals. Painting them I began to see the row of tiny cottages rising on that thin strip of beachy sand, amid what had become an ocean.
Vermilion
color of eternity
I began my Winter Solstice canvases by washing them with vermilion. This color lives within the cold bones of the winter landscape, dormant energy awaiting spring.
"I have always felt I could taste the colors."
How I spurred dormant creativity.
At the same time, I was doing something I do almost every winter ~ treat myself to a project in my sewing room! Some winters I knit. This year it was answering an urge to cut up two red jackets, and design a new coat.
Aware of the symbolism of the red jacket, I felt both trepidation and excitement about this opportunity to hang up my old coat of survival and design a new one. I must admit that the first cut into what looked like a perfectly good jacket felt daunting. I hesitated.
And then I did it anyway.
I argued with myself about spending time on such a project.
But then I chose to stop arguing with the Creator.
Okay, I'm in let's go!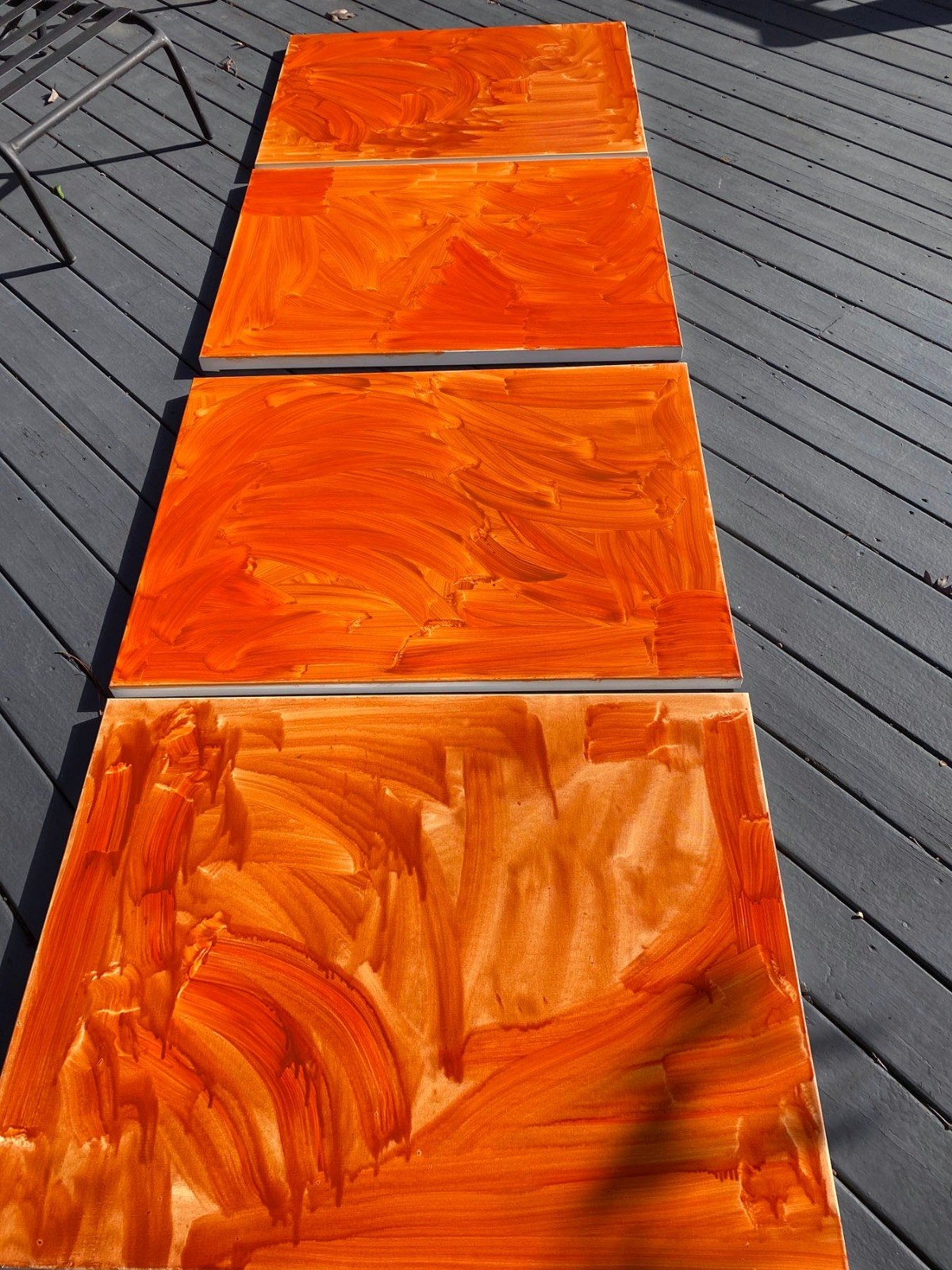 I cut the old red wool from the jackets into rectangles. And I washed red vermilion oil into the weave of my canvases.

Winter Solstice
Four Canvases Activate Dormant Creativity
I know you're probably curious about the jacket. I promise I'll show you the jacket and scarf that I created along with this painting.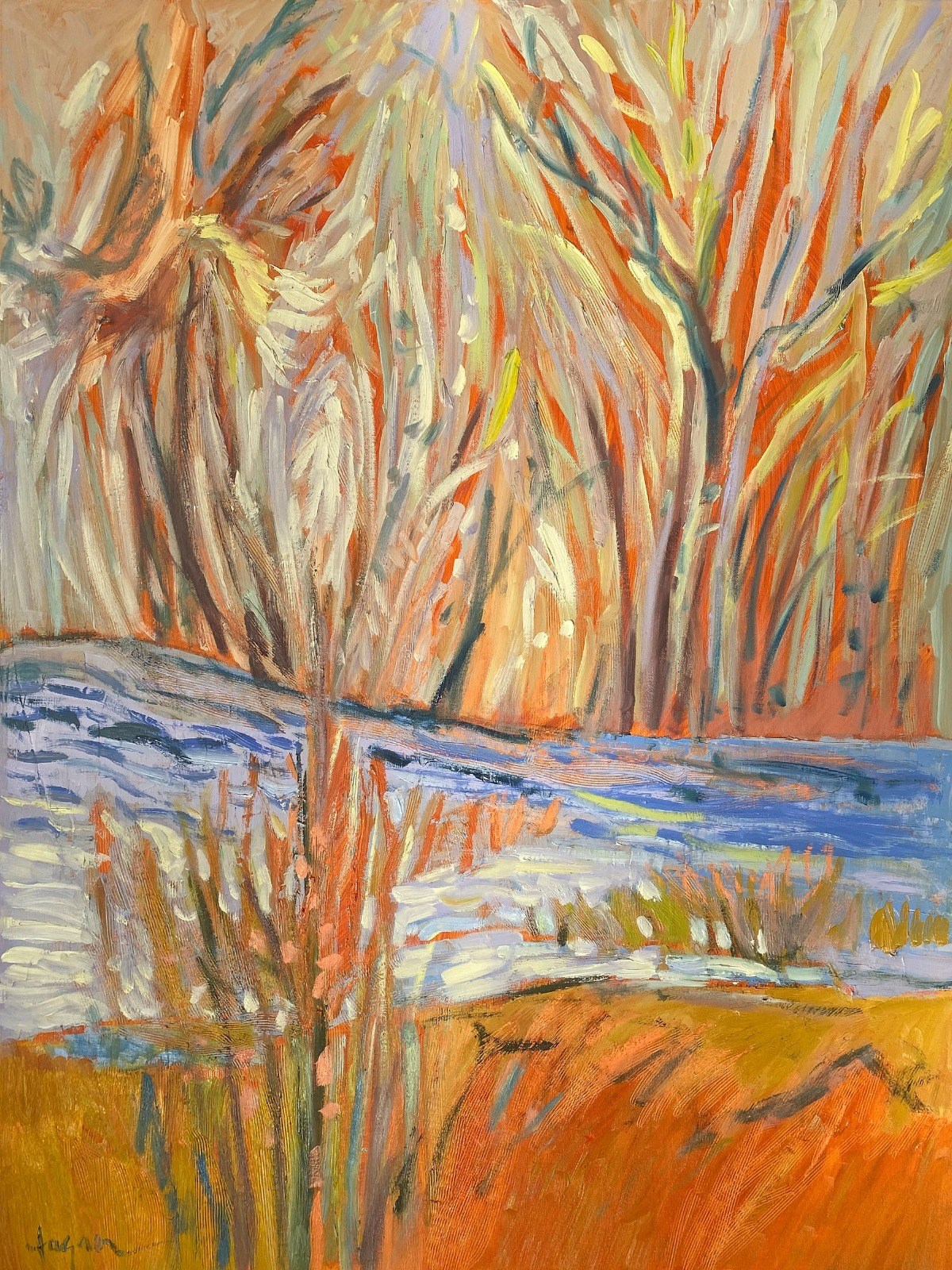 Winter Solstice mixed media, 2020
I was surprised at the bird that showed herself in the new interpretation of this thread of creative energy. Compared to interpretations from years past, where the blue gray desaturated palette dominates, this new one inverts the palette. Now the river appears flowing, sparkling, and the gold vermilion eternal essence glows from below.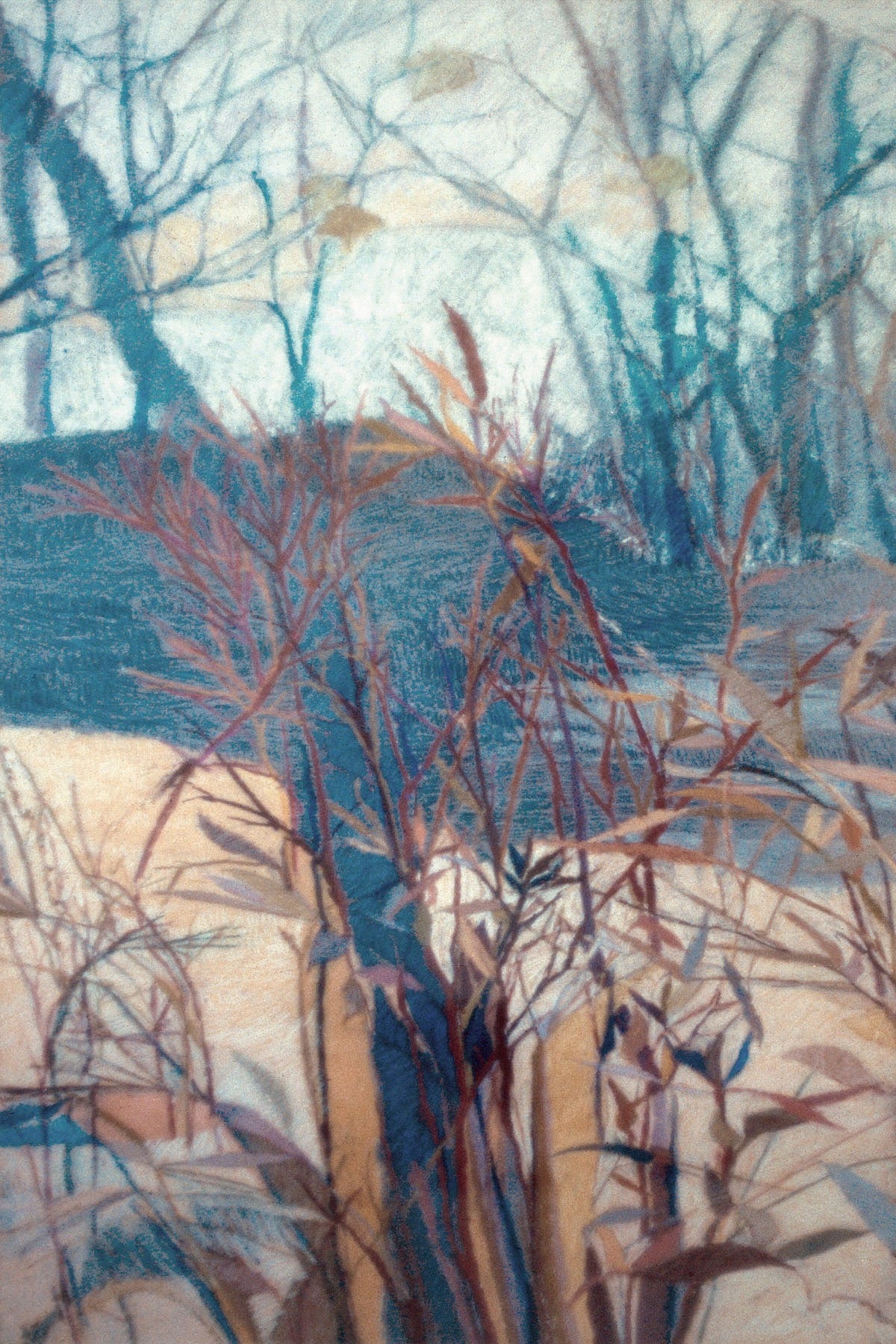 Winter Solstice pastel, 1979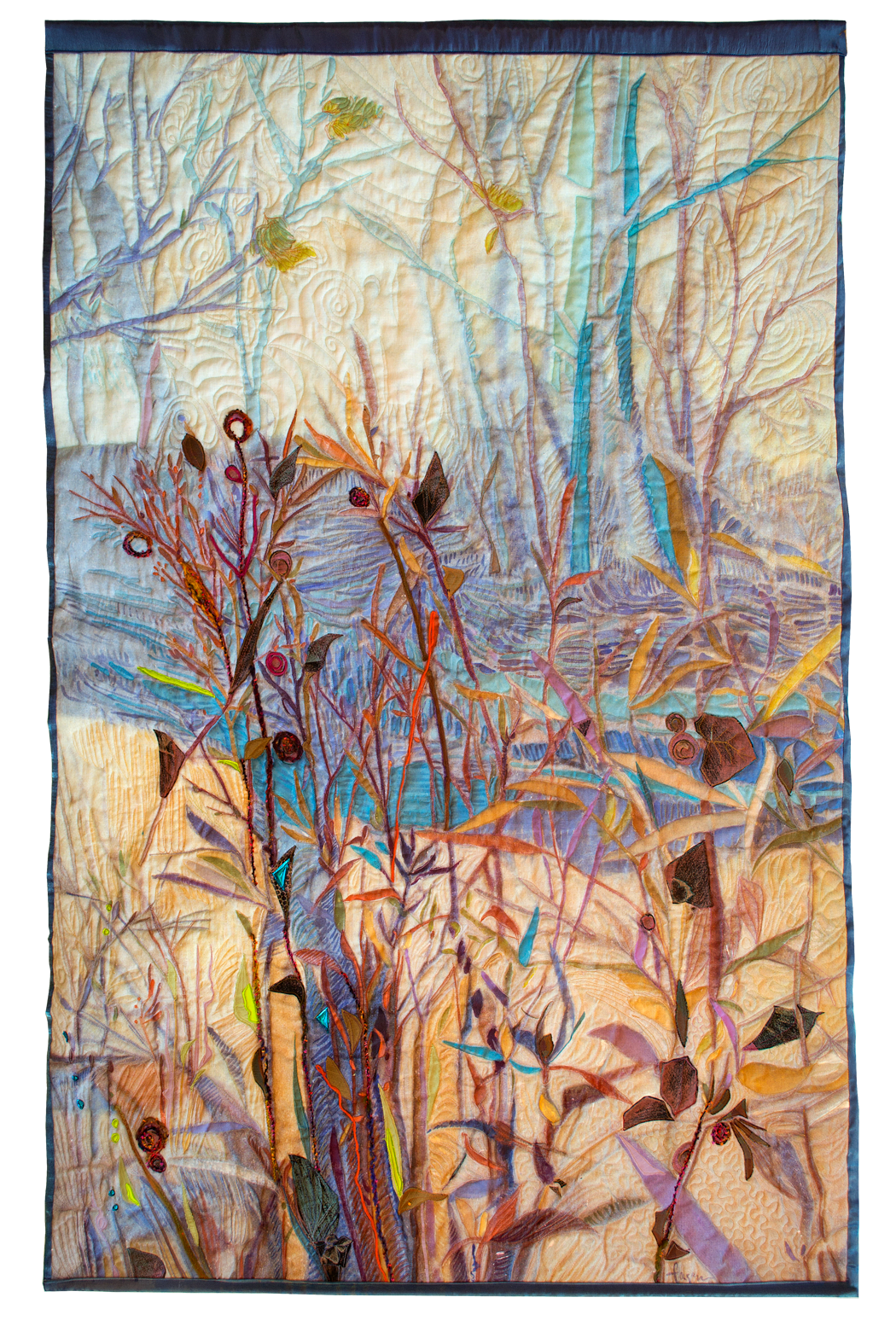 Winter Solstice quilt, 2005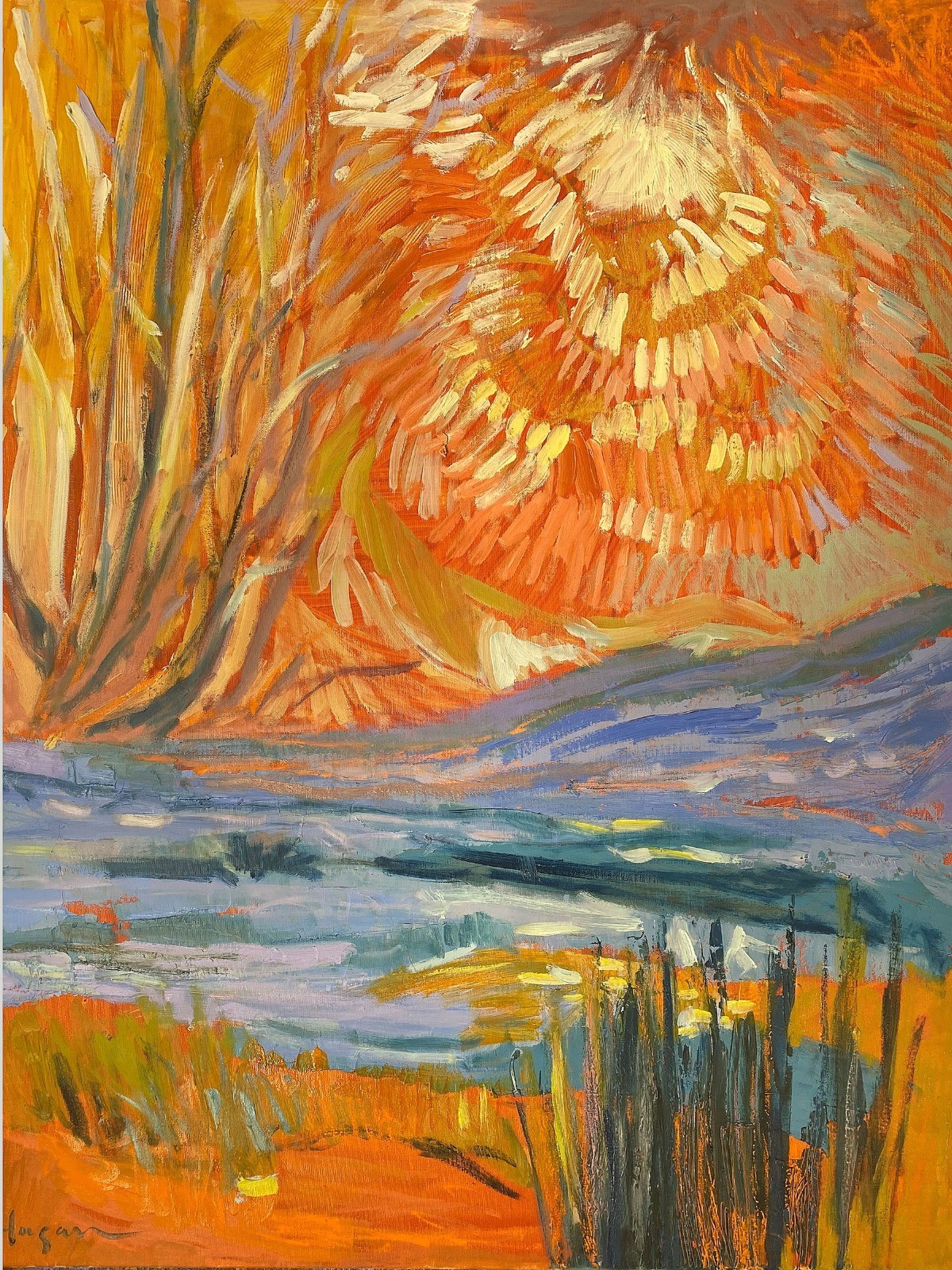 Winter Solstice II
As the river flowed across four canvases, the landscape expanded with it as did my willingness to play. Following it I took cues from metallic fabric paint on the jacket. I mixed media on the canvases; metallic oil paint sticks, willow charcoal, oil pastels, palette knives, and thickly applied oil paint.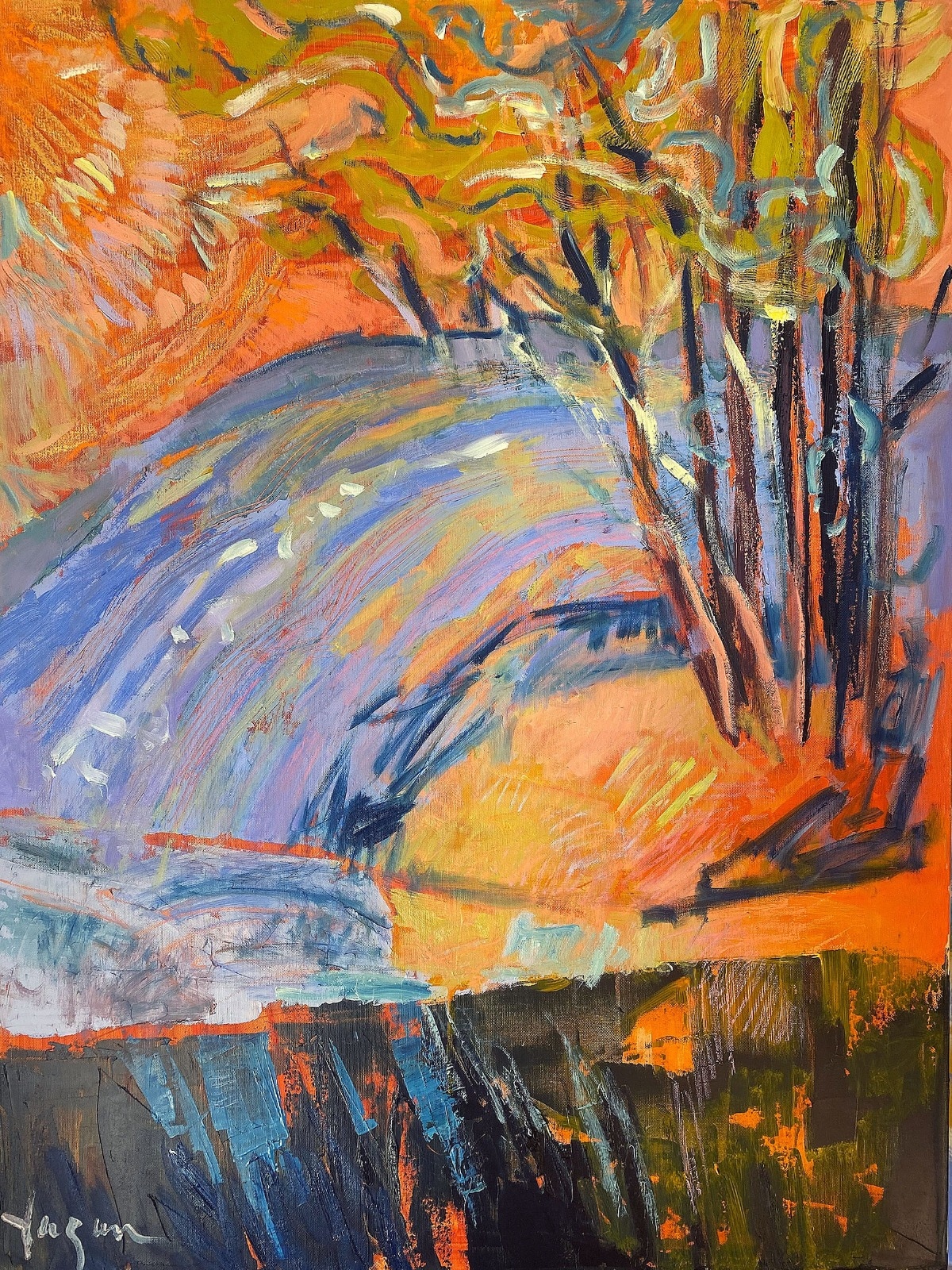 Winter Solstice III
As I neared completion, sunlight from the side windows of the studio cast a shaft of light onto the two far right canvases, begging the question.
Shall I take the Creator's cue?
I picked up the brush and answered with thick translucent strokes of golden yellow glaze in the lower quadrant.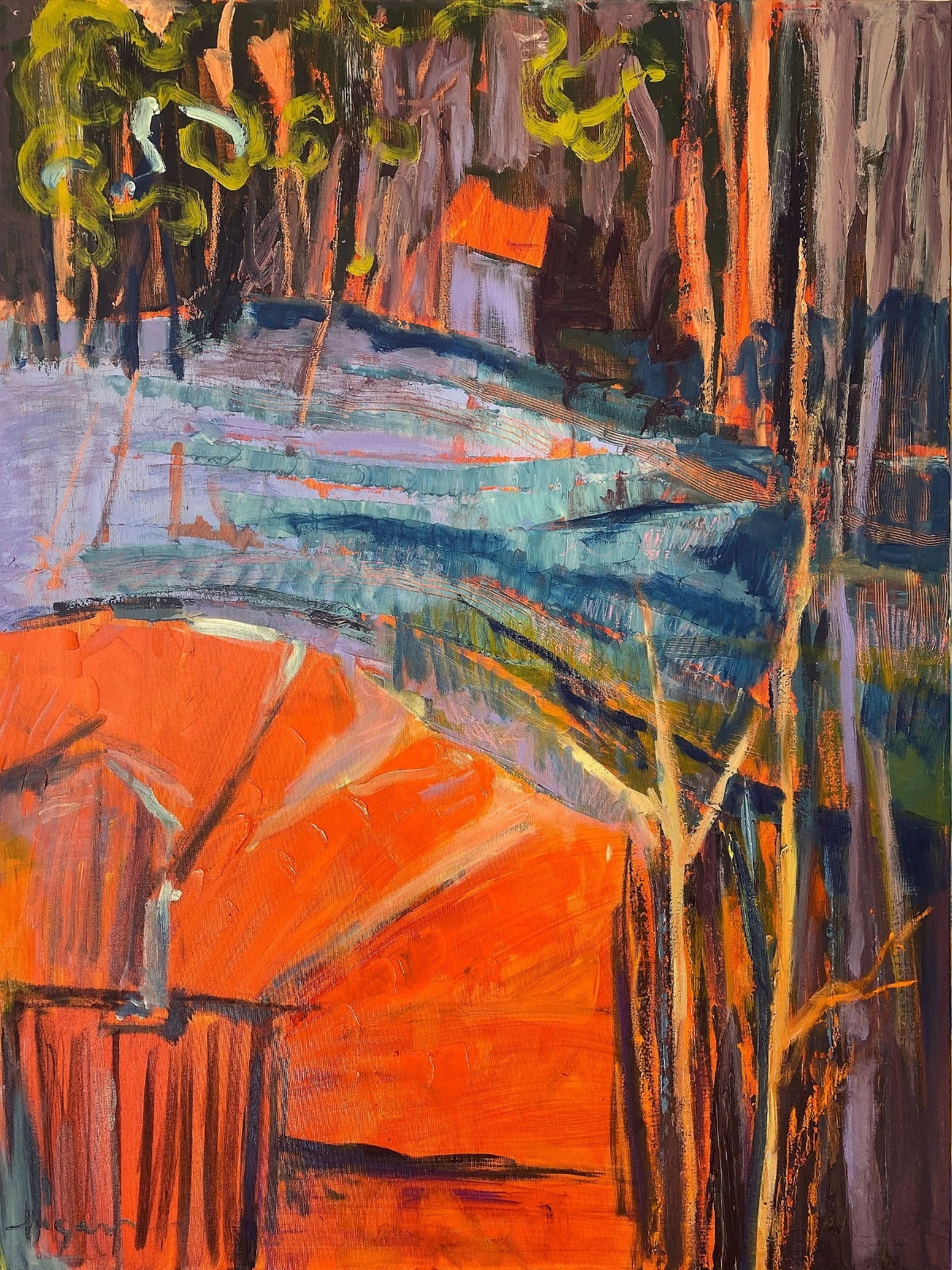 Winter Solstice IV
Brush in hand still dripping with paint, the table I'd been designing leapt into my awareness begging the same question.
Oh my! How wonderful I thought. I can paint a golden quadrant into the table!
I continued back and forth between now three projects. My new role as artist redefined as receiving station for the pulse of the Creative heart.
Of course, my creative heart felt the heaviness of quarantine this winter too. Stopping to share a few cherished moments with my granddaughter, we did a little zoom painting together. Feeding her ideas about mixing greens for her fern painting, my heart zoomed with hers. She gifted me my own joyful little girl heart!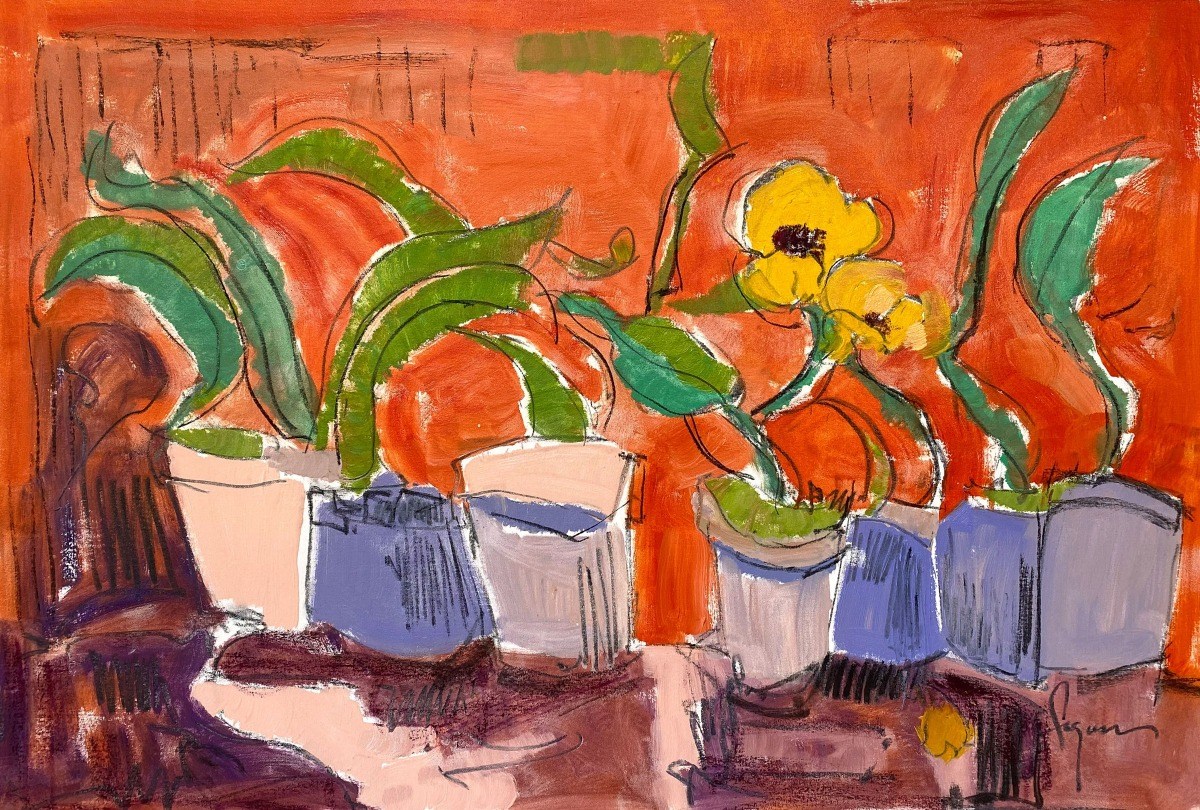 Joy Blooms in Cherished Gardens
mixed media; willow charcoal, oil wash, oil pastel on canvas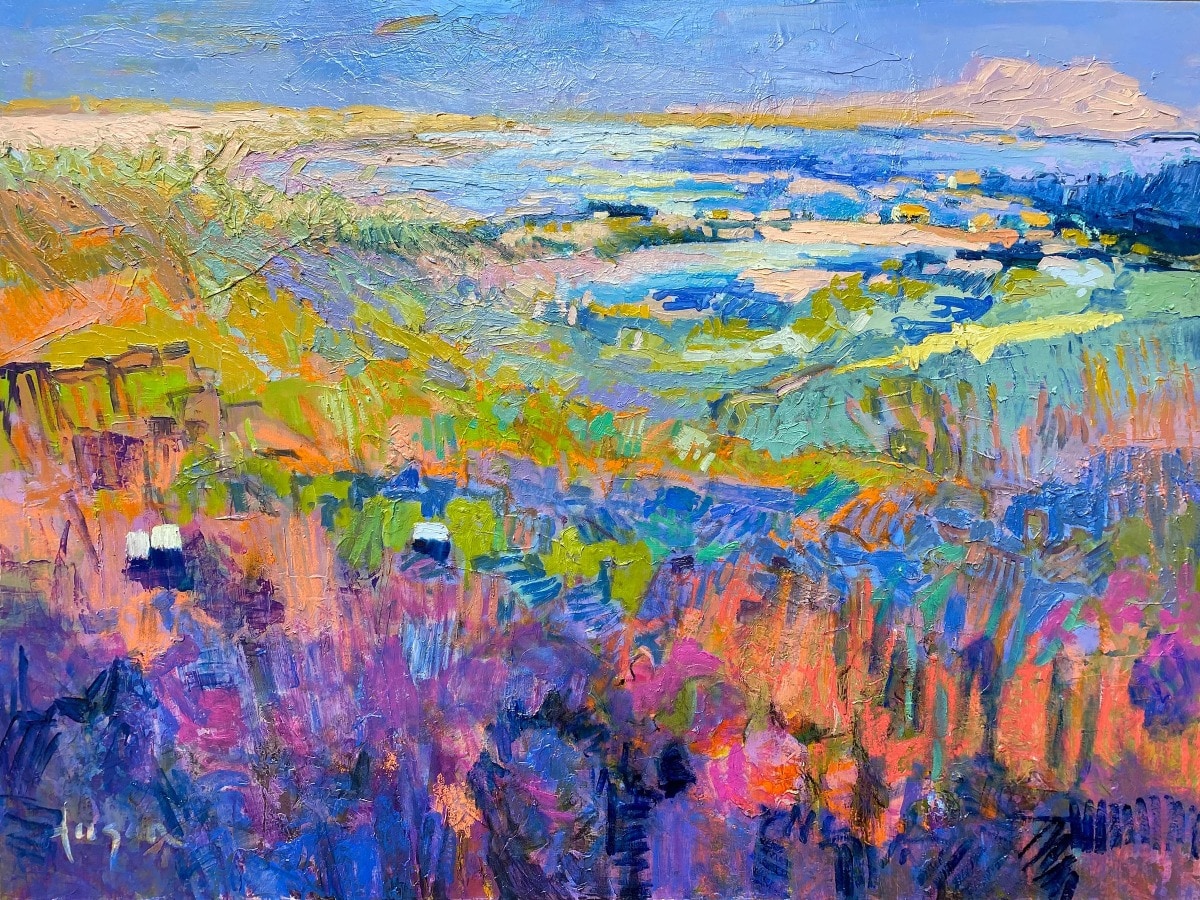 Paradise Found
As I continued painting, the sky turned blue and cottages took their places along the coastline. Paradise Found, the coast line, colors settling into place. All of it told me I was home at last.
Manifesting dreams with my paintbrush, something I've done for decades, and yet so very new. This pandemic has brought me new clarity of the creative process.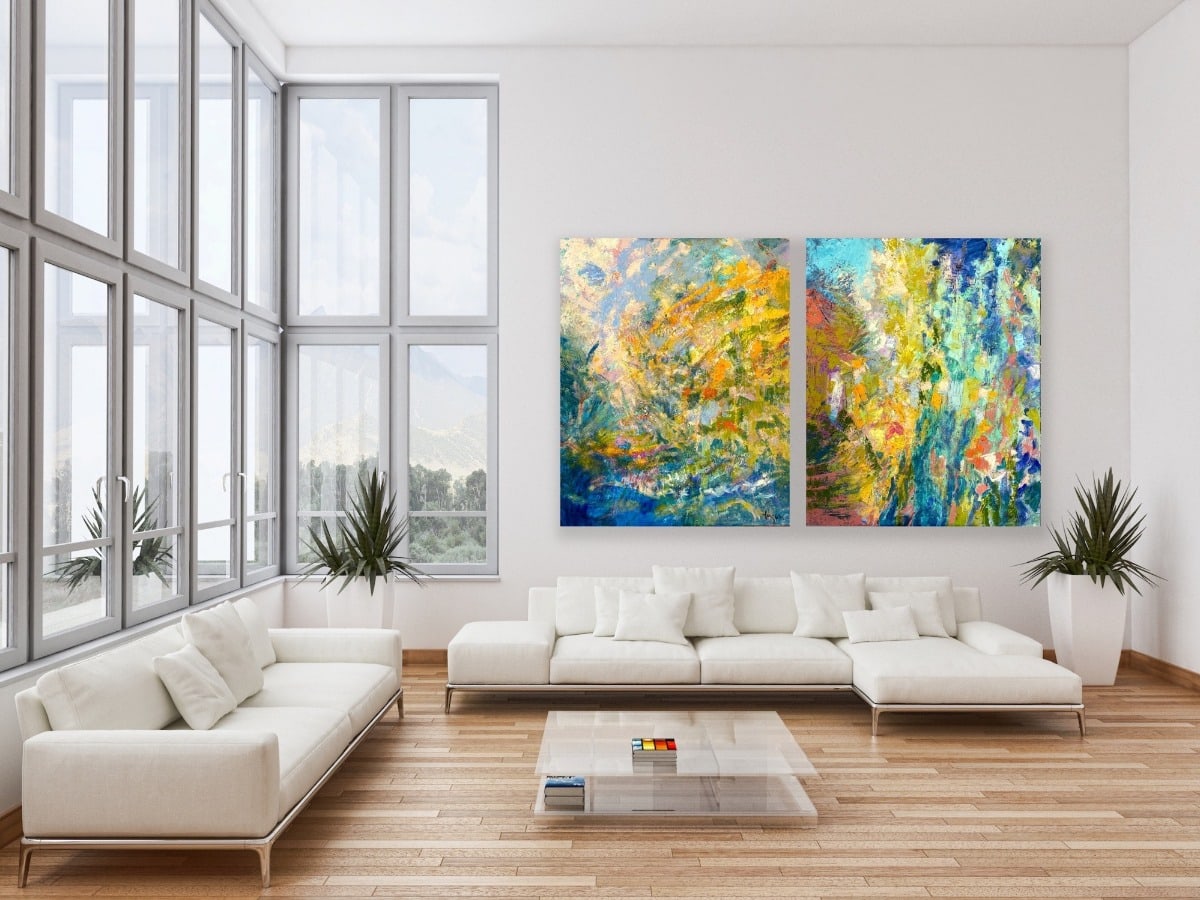 Waking in the Meadow/Fledgling
A flurry of painting whirled in. Paintings are my footprints. They track my healing art journey, through this life and past lives as well. Waking in the Meadow and Fledgling, together, open a portal to the tender heart of Faith.
All at once new, yet in some way familiar ~ the meadow energizes. Colors move as we step back, around the room, activating colors within us.
Wavelengths of light pulse. We feel it inside. Newly, yet somehow familiar, we step into the meadow with peace and compassion.
See this new collection!
This painting is called 'Birthing Dreams.' I use my painting to propel my life. Rather than struggle against the difficulties and darkness that life often sends, I've learned to channel this creative energy into my painting. Moving this emotion moves the creative force color by color. Feeling the colors wash over you releases joy and compassion, and most of all peace.
I don't know how much of my story you are aware of. Shortly after the assault, my mother was diagnosed with a brain tumor. She was an inspirational force in my creativity, and an advocate for wellness. And yet I did not have the understanding and experience of using color and light to heal, in time to guide her. Rather, she guided me from the other side in my healing art journey. It is through my soul sister relationship with her, that I've learned to let the Light move through me color by color. And to become the name 'Faith' I took at my Confirmation as a child.
As I install 'Birthing Dreams' at my new exhibition Crossroads Art Center today, I feel it affirming that my dreams are indeed born. The exhibition is called, 'Waking in the Meadow' and the Meadow represents that sacred space of the creator in my heart.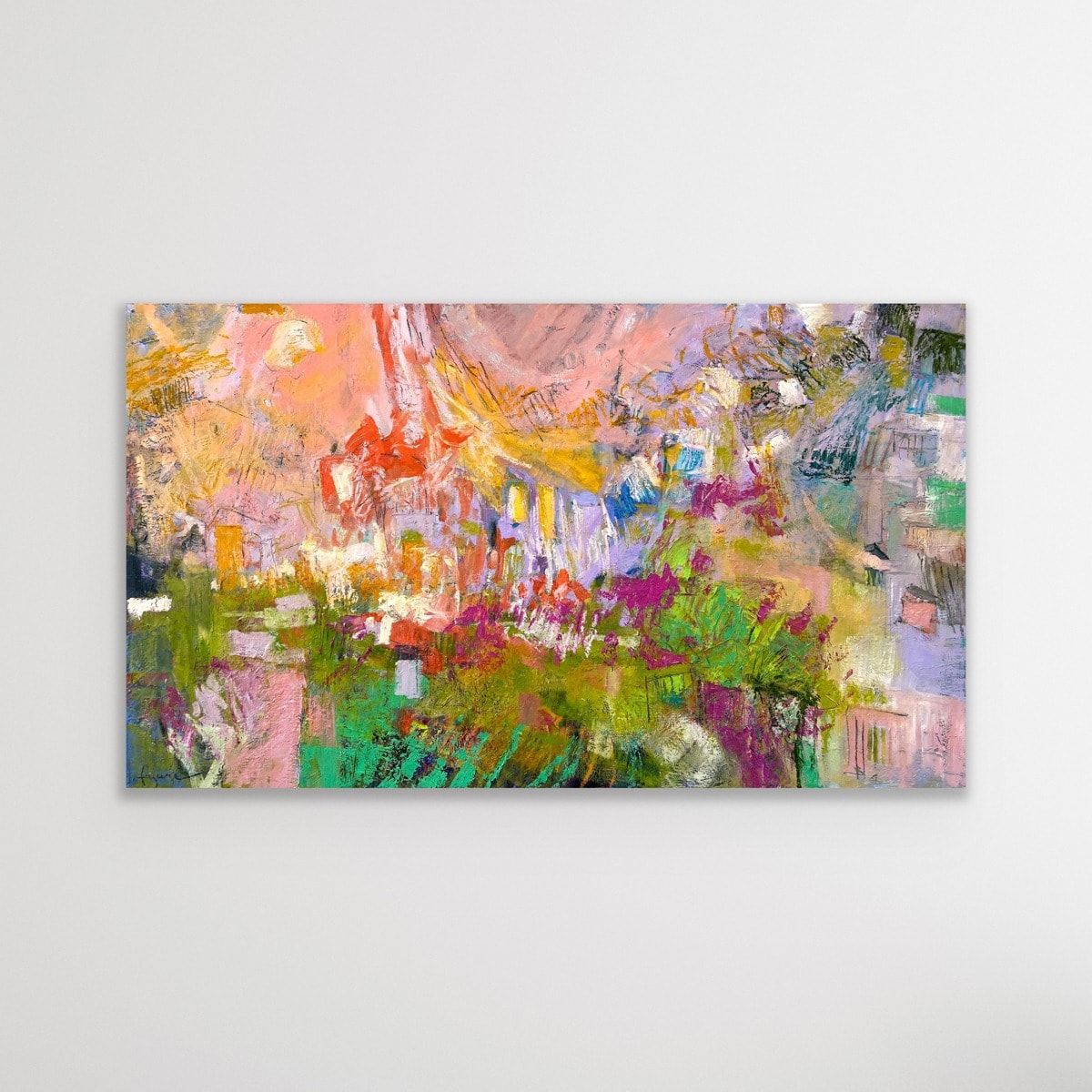 Dorothy Fagan
Waking in the meadow exhibition
Richmond, Virginia
April 17 - June 30