the watershed
DOROTHY FAGAN


I've been praying with my paint brush, painting clouds for nearly fifty years. Yet I never gave a moment's thought to what the the Chesapeake Bay Watershed landscape I'd been painting might be trying to tell me.
the
watershed
It's a cold rainy December solstice. Moon rose with not so much as a whisper. Yet I am moonstruck.
When I came here to this marshy landscape of the estuaries, I knew nothing of sister moon, or her connection to the power of my divine feminine creativity.
I didn't know about blue heron either. I didn't hear her message showing me of one's ability to wade in emotions, whilst keeping one's feet on the ground with clear vision. Only now can I feel emotions ebb and flow as a kind of pulse ~ reassuring me that I am indeed still here, still human.

I see her outside my studio windows, wading along the shoreline as she pokes her neck out above the reeds, her feet sinking deeper into the mud. I recognize myself in her slow, awkward footsteps wading through mud, keeping an eye out for something that looks like dinner. I laugh at the Creator's whimsy, oh yeah, that's me.
Marsh Moonrise
original oil on canvas, 24" x 24", $1800
canvas edition of 50, from $395.
Set of 4: Sunset, Moonrise, Sunrise, Daybreak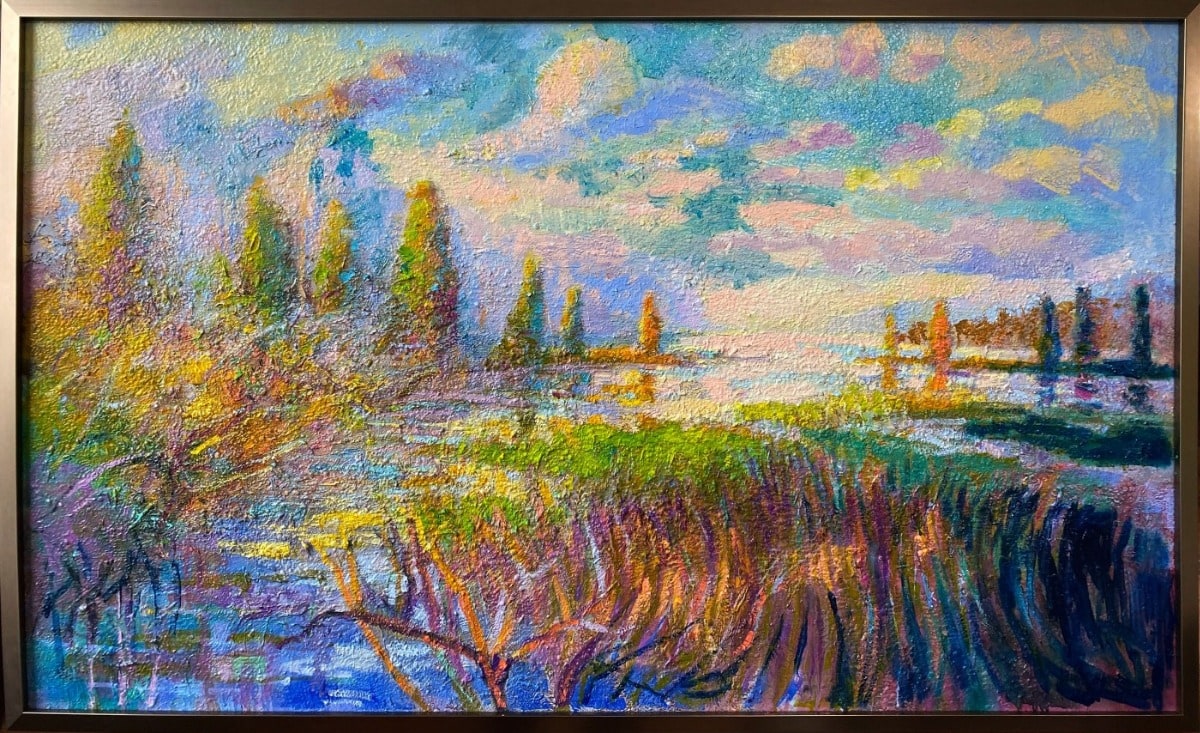 First Landing
Bloom my joy, and light
my way, immigants' meadow
knows thy heart of peace.
original oil, 36" x 60", $20,000
I've gravitated toward painting untouched landscapes since coming to Virginia in 1974. I took my easel out to paint en plein air, the mountains, streams, and farms here and visiting family in West Virginia, Pennsylvania and New York. I relished breathing in salt air along the coast, mixing my colors to match the sky and sand, like a puppy synchronizing her heartbeat with its mother.
Painting and repainting this landscape for fifteen years, First Landing became a kind of time capsule, evolving with me as I came to own the essence of the Creator that lies within one's own heart and soul as uniquely mine.
Painting First Landing, I began with a series of memory sketches in pastel. The land is said to be first landing sites ~ before immigrants settled in Jamestown. Indeed the land felt pristine, no sign of mankind seemed to have touched it.
This got me to wondering, how it must have felt to immigrants arriving here?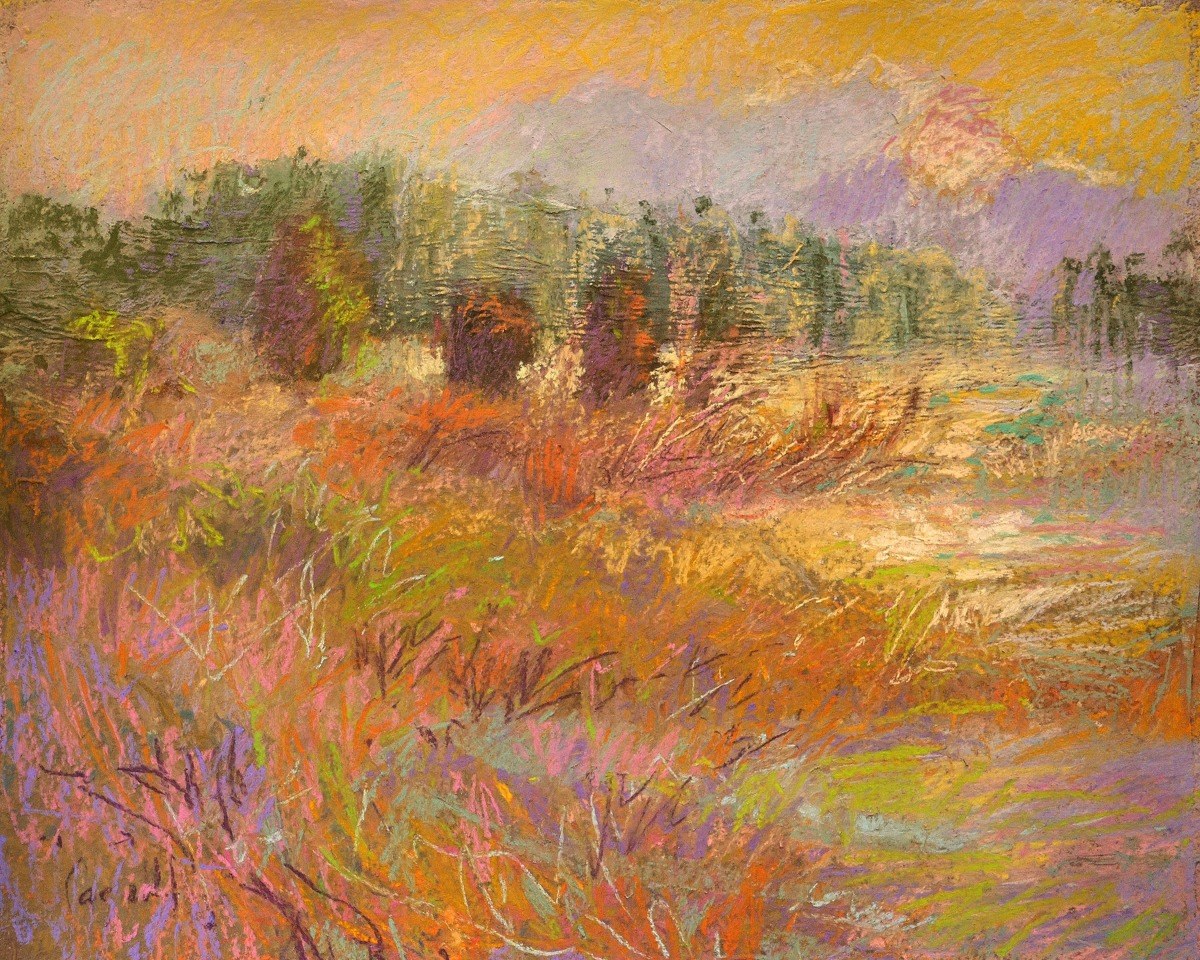 Break of Day
original pastel, 16" x 20", $1200
canvas edition
Did they wake up and give thanks just to be here?
Did they know they were entering the largest estuary in this New World?
Did they grasp the meaning of such a flow beneath their feet?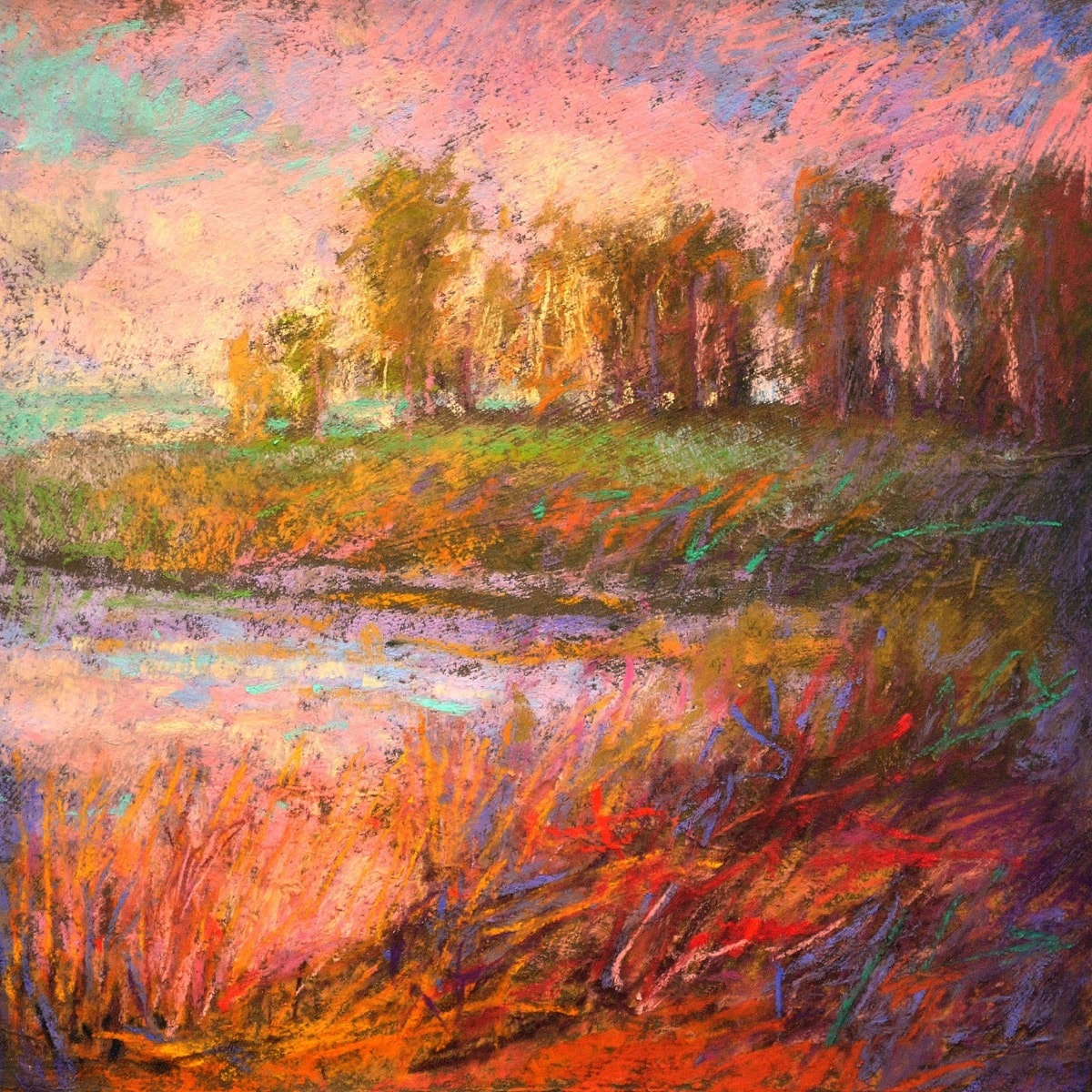 original pastel, 10" x 10", $900
Did they feel the brilliance of this new morning?
Did they feel the cleansing flow beneath their feet as they stepped onto this sacred ground?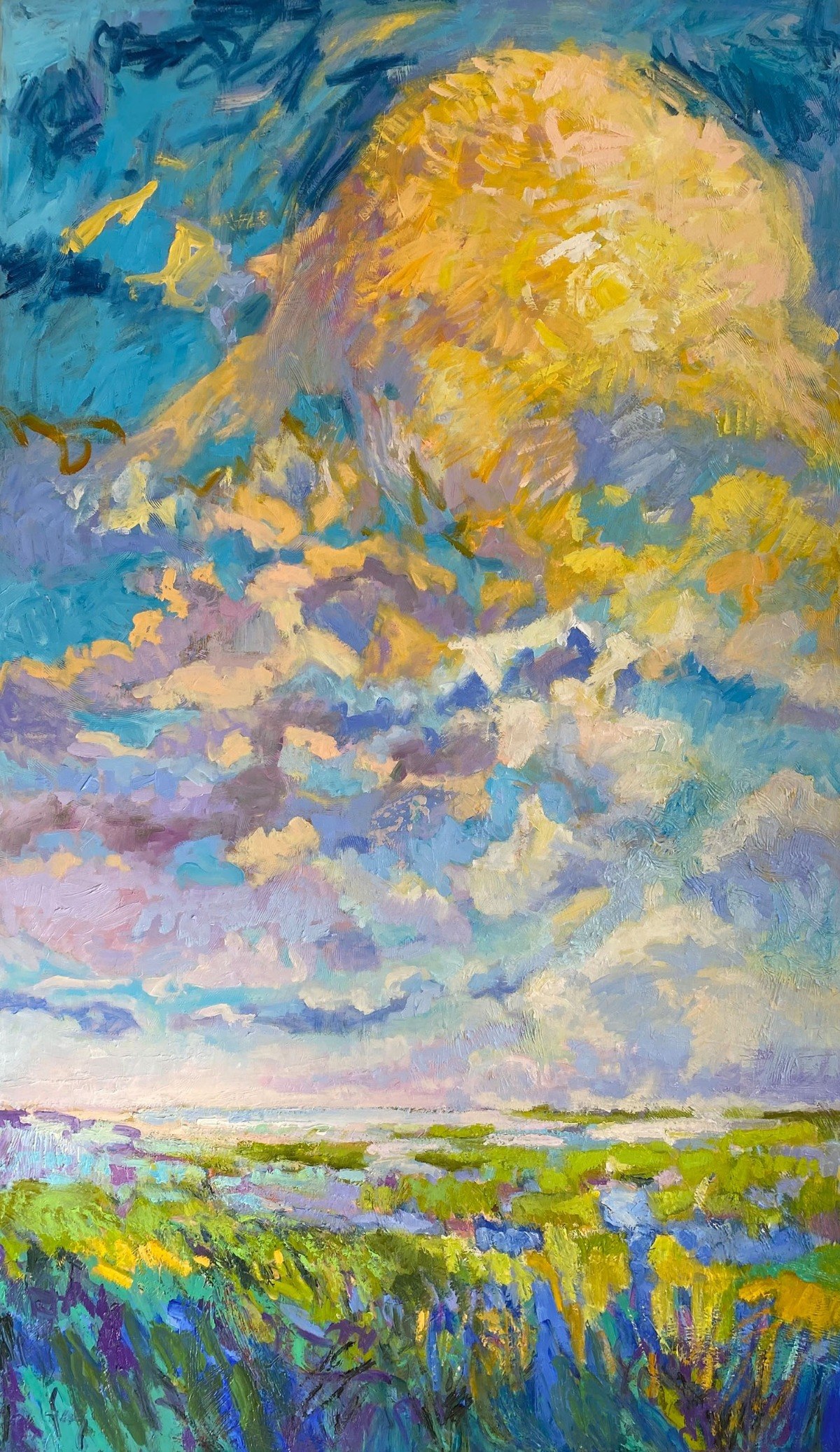 Soaring
Lift me up away
Fear not flying soaring high
Let emotion flow
original oil on canvas, 60" x 36", $8500
Were they fearful? Or were they relieved to put their feet down on firm soil?
I feared having doing being enough and so I prayed. I prayed with my paint brush, painting and repainting every canvas until I could feel a visceral kind of peace.
And still I wondered,
did they sense the symbolism of the River?
Did they wonder about its Source high on a hill?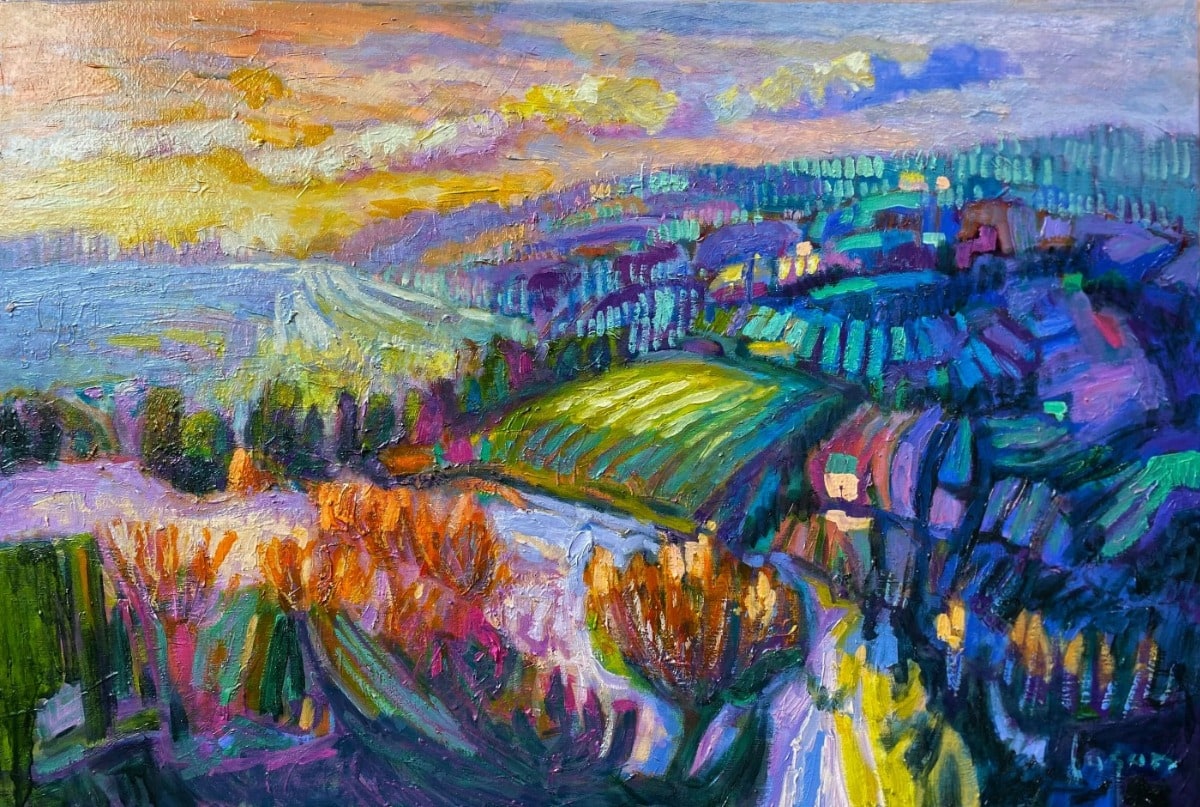 The River
original oil, 24" x 36", $3600
Canvad edition of 50, from $495
Approaching twilight
Stillness in me ebbs and flows
River of d'Light
I wondered about my own great grandmother who'd come from Poland through Ellis Island, a new bride only 17, to make a home for the family she'd create here. I can still see her standing in her garden, joyfully celebrating all her great grandchildren arms outstretched in a wide embrace.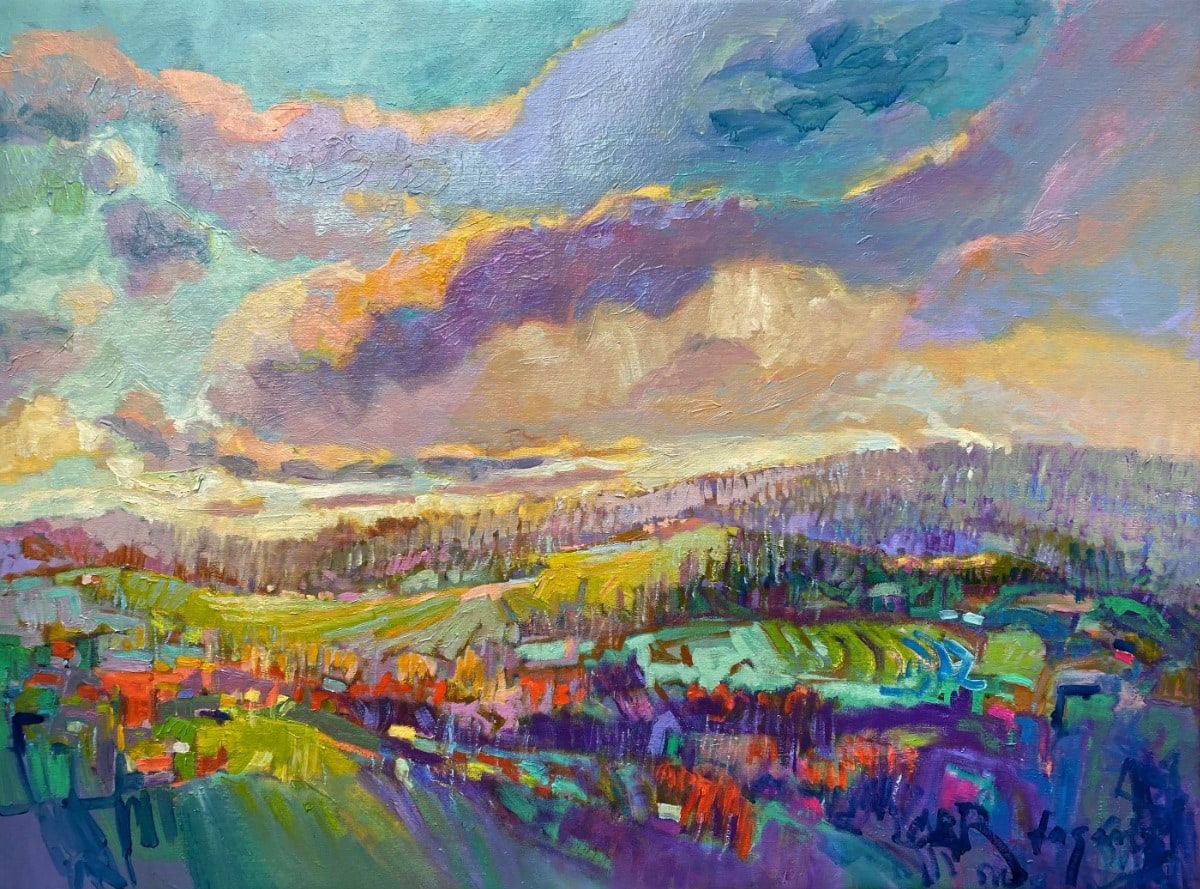 original oil, 36" x 48", $5600
Canvas edition of 50, from $495
Milk and Honey oh!
Nothing more than Splendor, please
Be my heart and home.
We tip-toe into fertile meadow among wildflowers. Feet sinking into soft earth, fragrance of freshly mown grasses lead us inward on the spiral pathway. Bees buzzing among daisies, cornflower and coreopsis, 'the sky opens, slicing heaven's brilliant turquoise blues between stalk and stern.'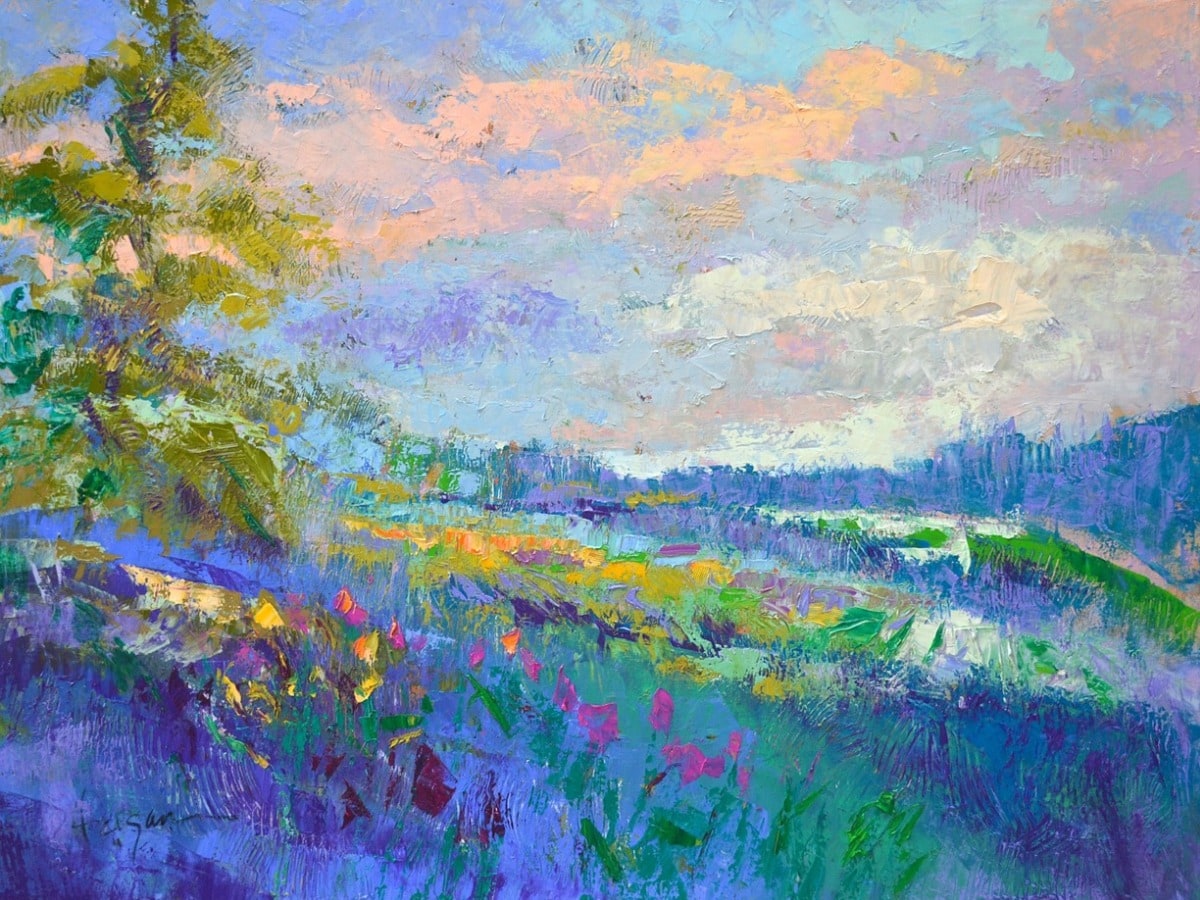 original oil, 30" x 40", $5600.
canvas edition of 50, from $495.
I spied the meadow
on a happy summer day
quiet bloom in me.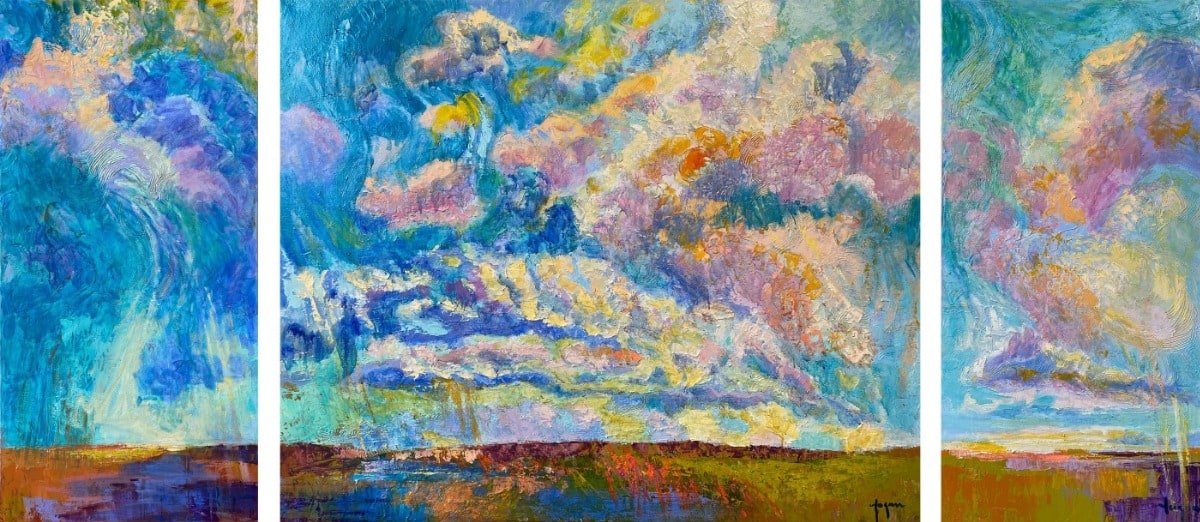 original oil, triptych, 48" x 108", $20,000
canvas edition from $495
On this Glorious Day
Grant me Peace upon this Earth
Blessing be my way.
Visiting my son I feel inspired, as he expresses delight in how only one season of pasturing chickens and sheep have restored lush green meadows of their family farm. Hickory Hill Farm, like many American farms had been over fertilized. Too many chemicals had been used to grow and kill crops on cue, interrupting Mother Nature's process. Their organic chicken, eggs, and lamb are available through the family's farm website.
Garden wisdom art prints are available through the Hickory Hill Gift Shop.


.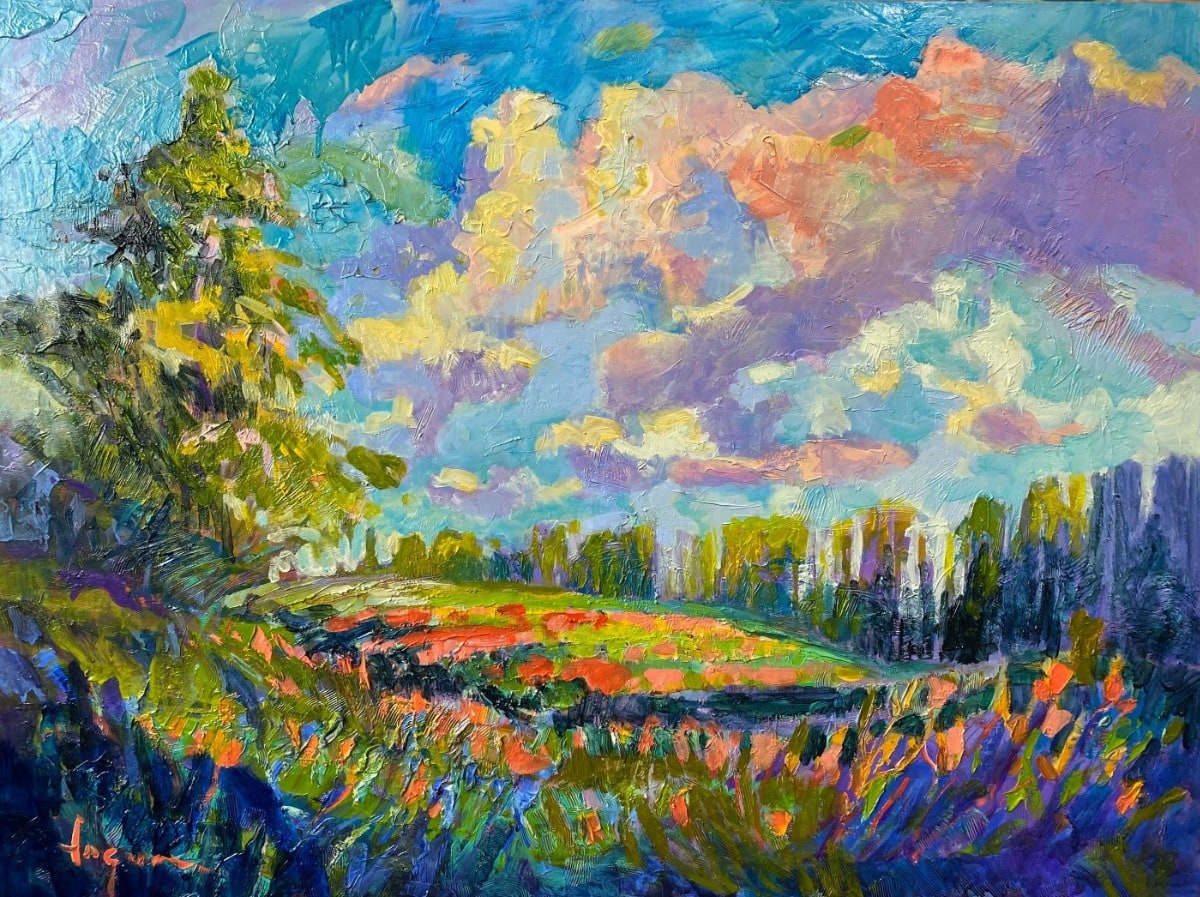 original oil, 30" x 40", $3800.
canvas edition from $495.
Bloom everlasting
My cloud and a prayer, lift me
into your meadows.
Every time I visit my grandchildren, I feel so flush with love! Their spirits capture me, my heart, my paint brush hand. I cannot help but express the joy I feel inside. High on a Hill with a Cloud and a Prayer says it all, in ways words could never touch.
I have wished and prayed for a way to leave a legacy for my grandchildren. Without a clue as how such a thing could be, the Creator grants my prayer with joy in such a garden as this!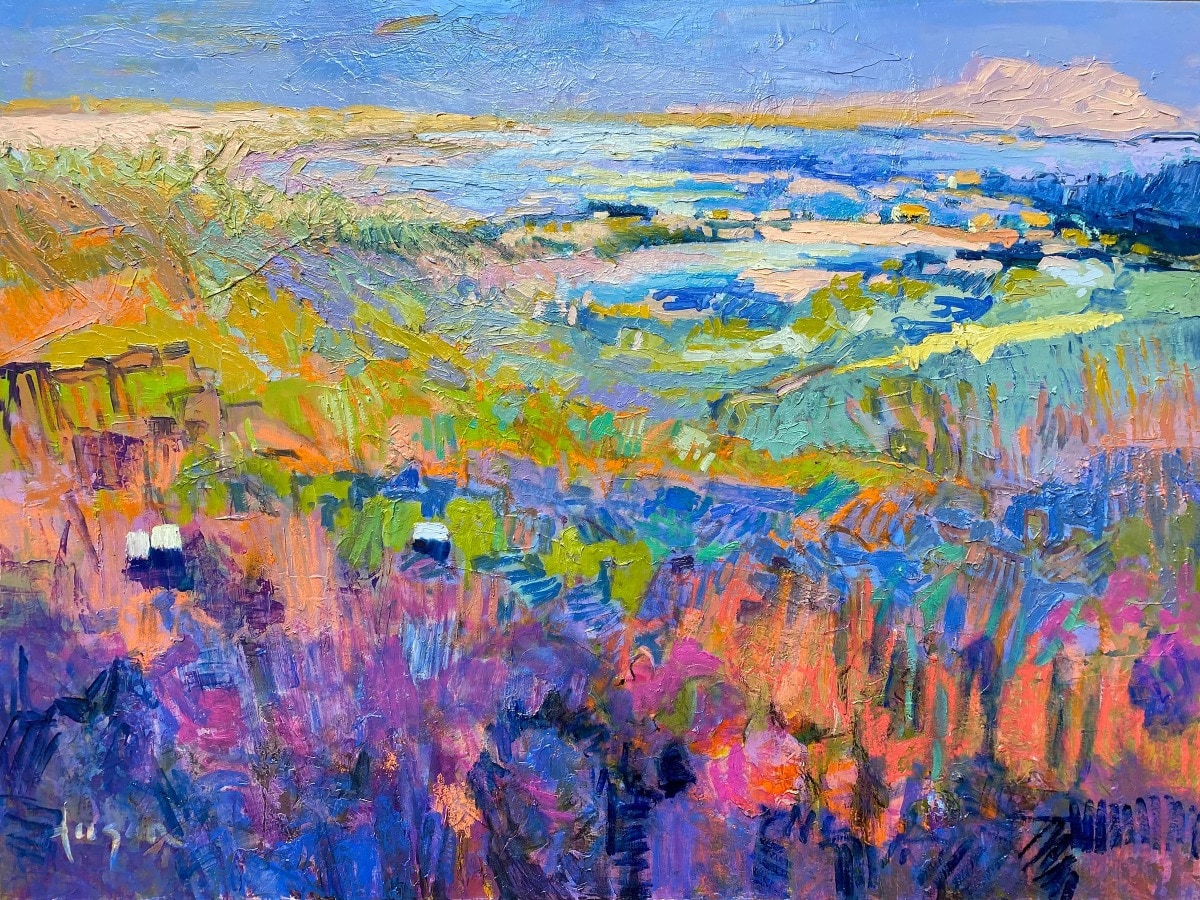 original oil, 36" x 48", $5800.
canvas edition from $495.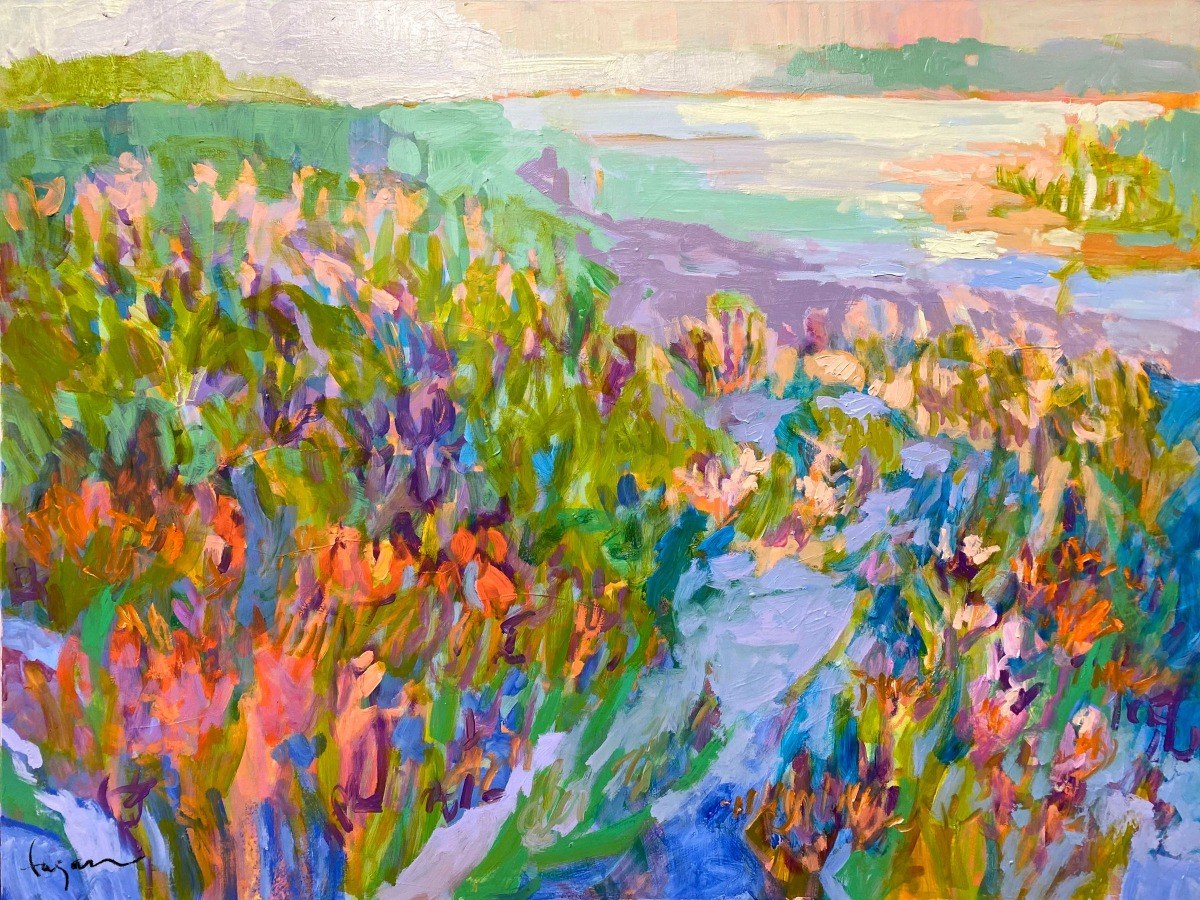 original oil, 36" x 48", $5800.
canvas edition from $495.
visit the
watershed
Exhibition
JANUARY 8 - MARCH 1 2021
2016 Staples Mill Rd, Richmond, VA 23230
HOURS 10am-5pm Monday - Saturday
Noon-4pm Sunday
Hickory Hill Gifts
Restoring Harmony with Mother Earth


© Copyright 2021 DOROTHY FAGAN