the
Meadowlands
DOROTHY FAGAN

Dream Weaver Artist Garden Faerie
With sparkling grit and visceral artworks painted with healing chakra-aligned colors, Dorothy Fagan welcomes us into a sacred garden where heart and spirit dwell together in peace.
Arriving in The Meadowlands transformed her paintings from small plein air beach and woodland scenes into vibrant oversize abstracts where she weaves light and color to evoke radiance in each viewer.
Sacred Garden (New Turf Series)
the
Dreamer or realist?
walk the creative journey

Embody Earth

This Side of the Sun (right)(2021)
Other Side of the Moon (left)


A dreamscape mountain called Other Side of the Moon glimmers the green flash, dissolving into vibrant meadowlands on This Side of the Sun.
A breathtaking, seven-foot oil painting diptych transforms ~ moon rising as sun sets bridging lifetimes, as the artist's torso aligns to create a second diptych ~ affirming the efflorescent message of Dorothy Fagan's soul etched in the landscape.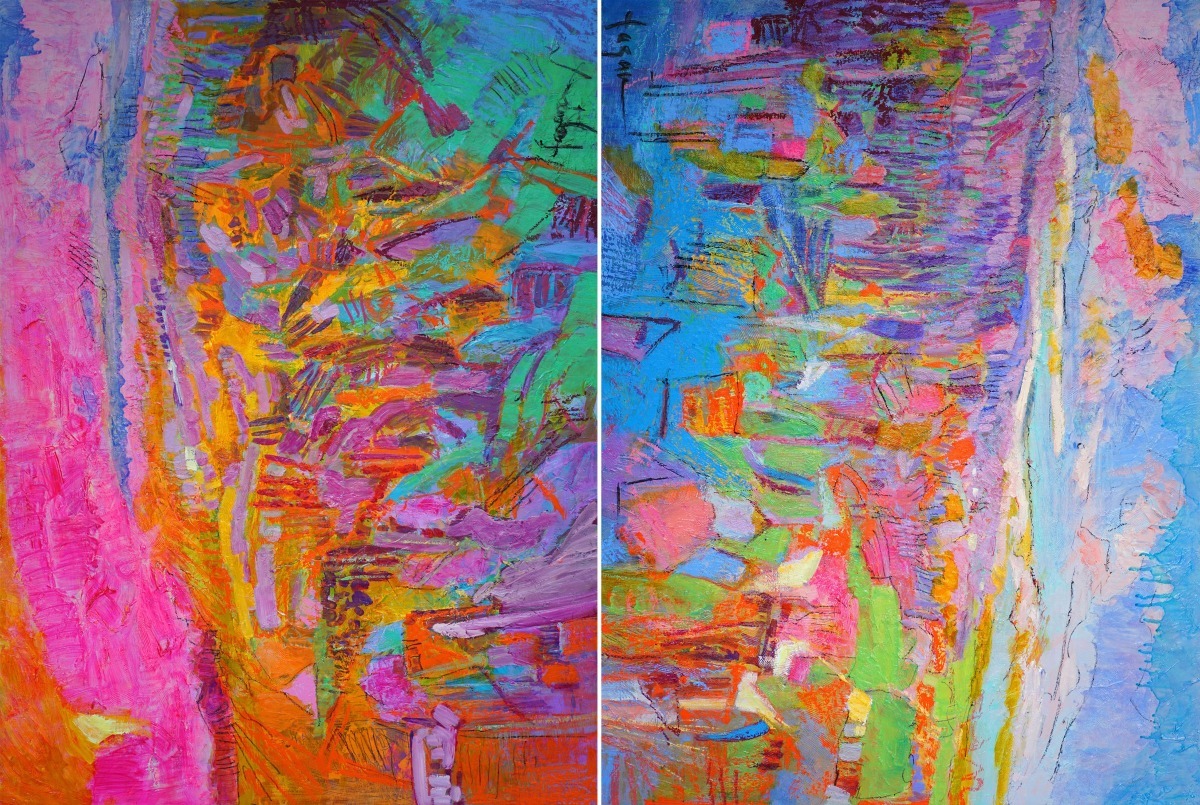 Embodied Earth (2022)
"We heal ourselves as we align with earth's sacred garden."
Sac

red Body, Mine
Behind the canvas, a handwritten haiku scrawled in seasons past echoes the artist's silent truth.
Speak now, ungagged, owned
by no one, I alone own
my sacred body, mine
DOROTHY FAGAN
The dreamer artist weaves colorful emotions held deep in the cells of her body.
In Fagan's paintings, we feel The Meadowlands blossoming within. For a fleeting moment, mountains of emotion dissolve.
Flickering joy and peace pulse, the heart beats a little louder!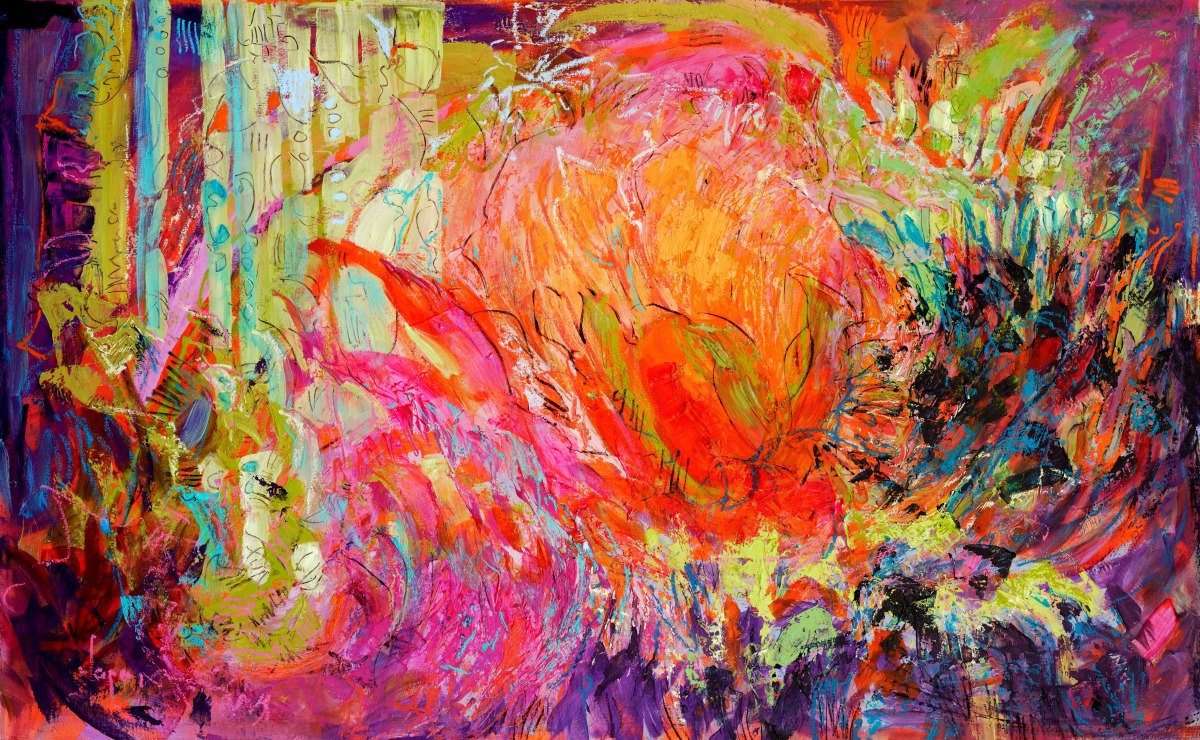 Blossom Joy (2023)
Orchestrating efflorescence with her art, Fagan uses a chakra-color palette and willow charcoal (twigs of willow trees charred into soft expressive drawing sticks), to draw dreamscapes in wet emotional colors, bringing to life her dream of peace and joy.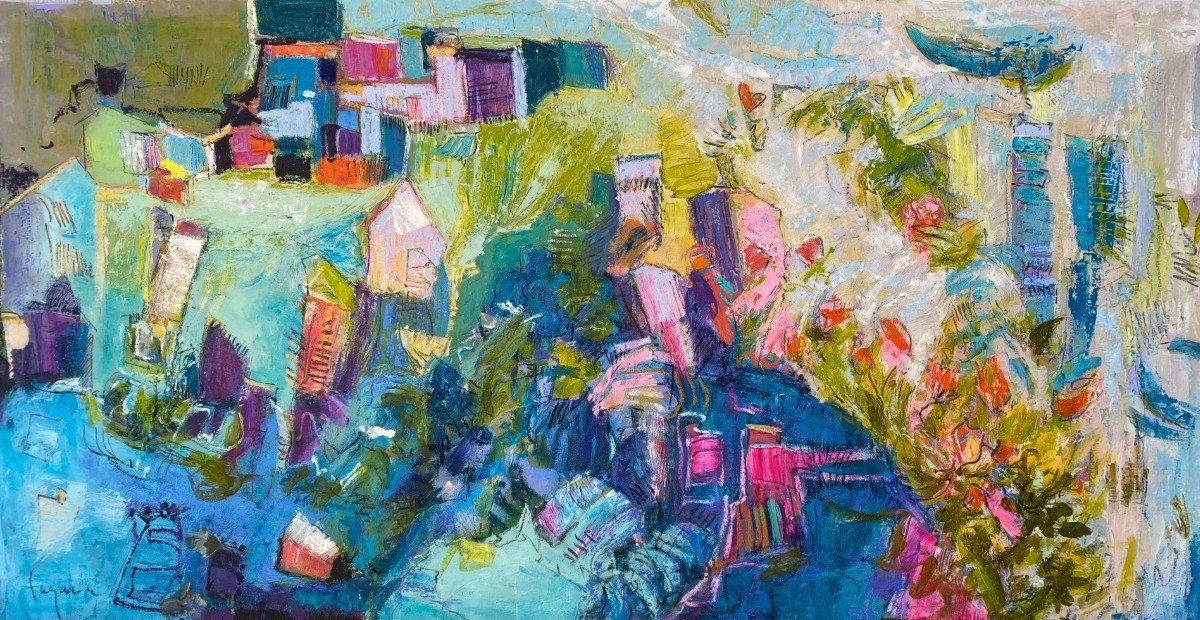 Settling into the Village (2023)
A printmaker by training, Fagan develops her paintings as one would an etching ~ state by state. In her process, layers of oil paint are applied with palette knife, then carved with linear textures and imagery.
As colors and calligraphy emerge, Fagan 'proofs' each state evaluating balance and structure, rechecking interwoven color energies against transforming energies within her own body. Sometimes the alignment of the two will complete a work in a month or two, other times a year, or a decade.
The Arrival (2023)
Fagan's painting process parallels the transformation occurring in her body. The titles provide clues, helping propel the artist journey.
The first state of The Arrival began as a painting called Moon Garden, a vertical with a dominating pink orb and entangling flora in a deep blue dream garden. The second state turned the dream garden on its side, as it co-joined with another canvas into a ten-foot diptych abstract landscape from above called Syncopation. In its final state, the diptych separates to stand alone as The Arrival affirms the presence of grace.
"I am often asked, 'how do I know when a painting is finished?'
"In Arrival, she never stopped crying out to me. I put her back on the easel alone and looked for how I might ease her pain?
"Rotating her several times, her pink orb broke up and disappated leaving a gold encrusted shimmer."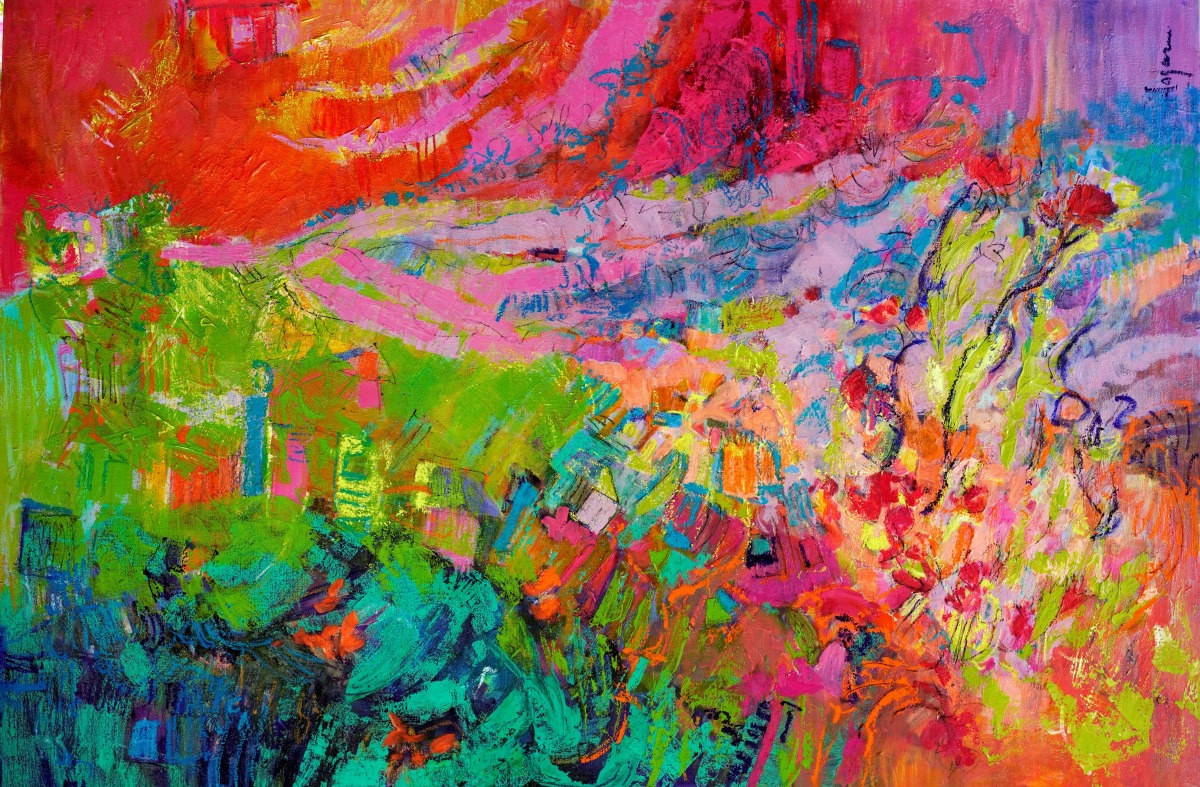 Passion Diva (2022)
Passion Diva began as a second version of Meadowlands (below.) Initially the abstract landscape appeared from above, a vantage point that Fagan uses frequently.
In the second state, she flips the canvas up-side down several times as the imagery develops. Ultimately the diva appears standing tall along the right axis, as the artist rests the painting vertically against the wall.
Fagan allows the goddess in the mountain to rest peacefully, honored in Meadowlands of her own making, in a reclining position or simultaneously standing tall.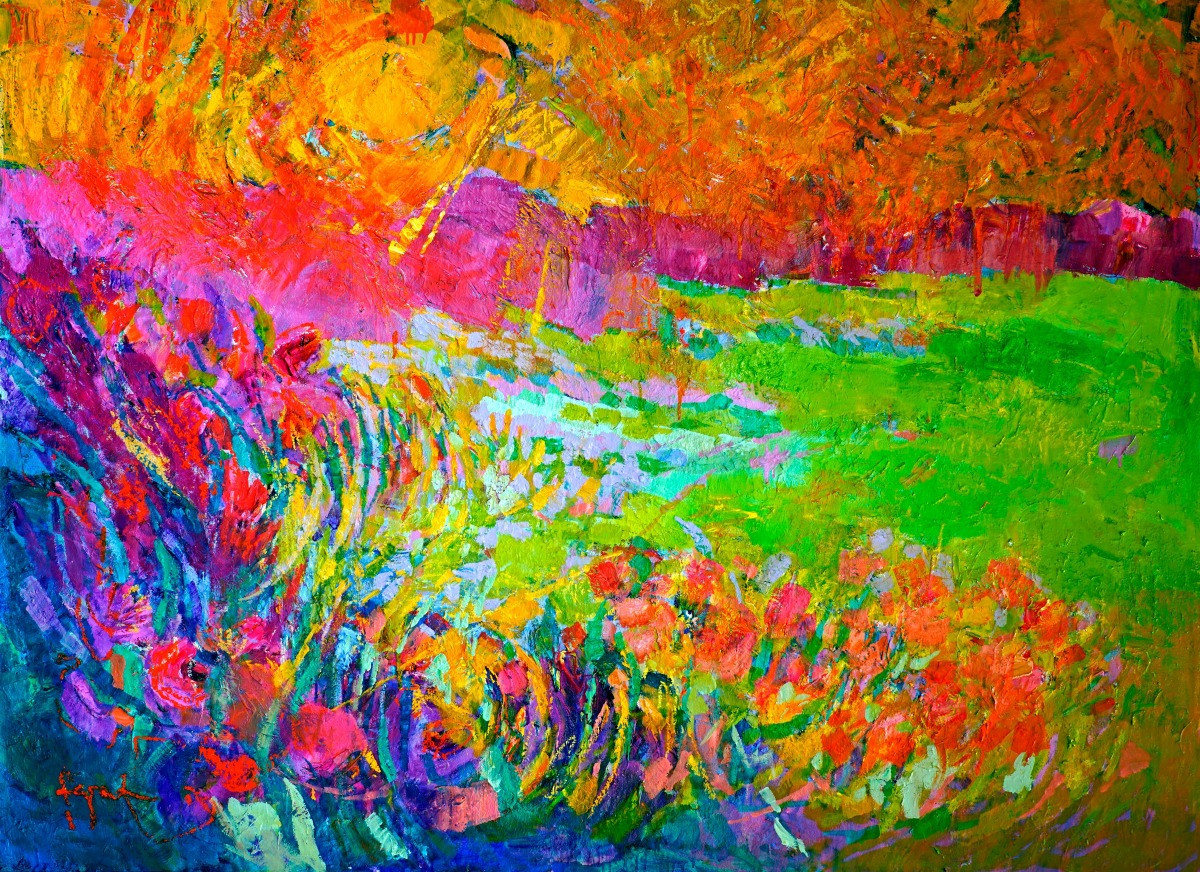 Meadowlands (2021)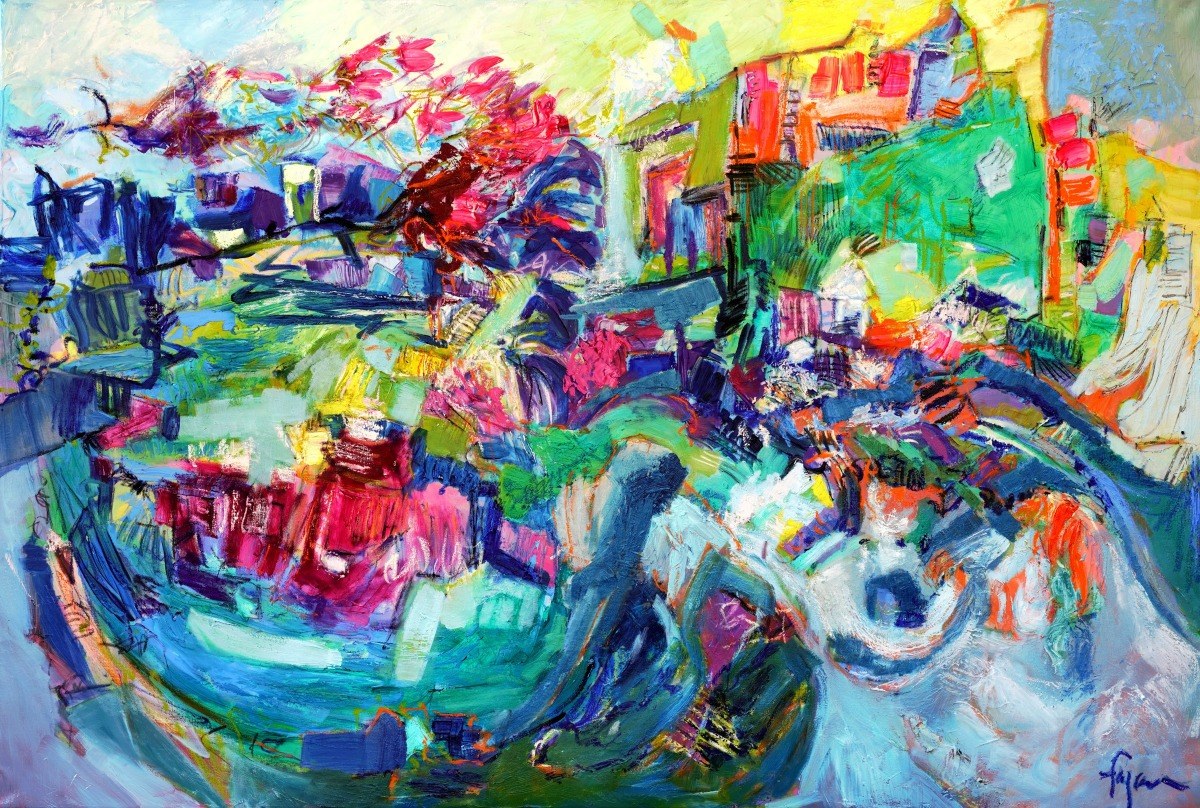 Tango in the Heartland (2020)

The River Runs Through Her (2022)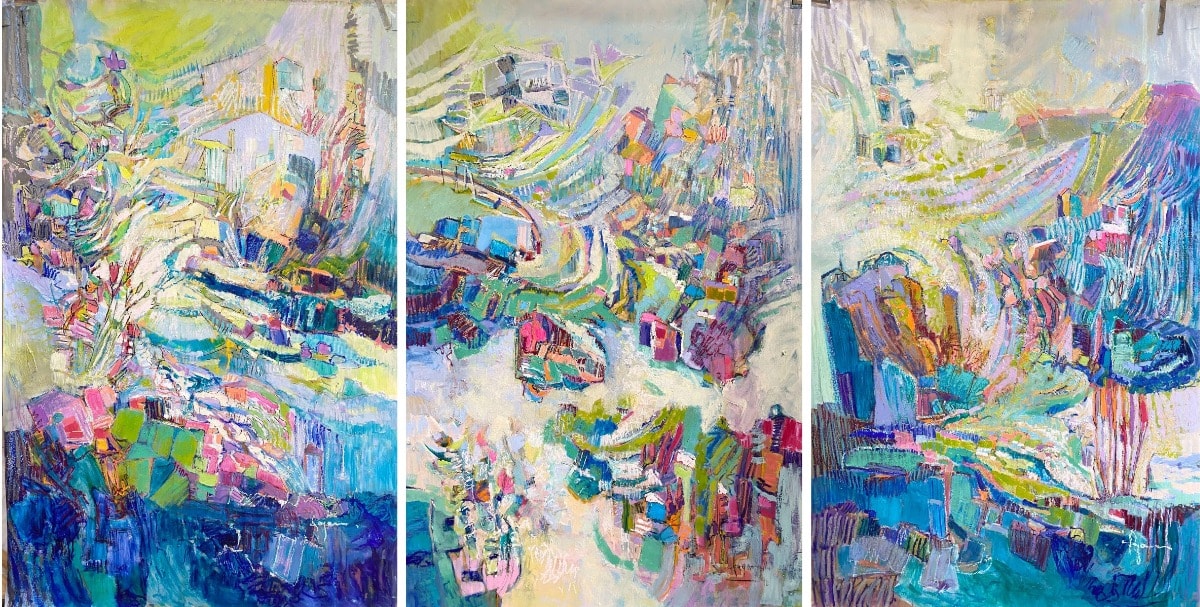 Gathering Up the Goddess (2020)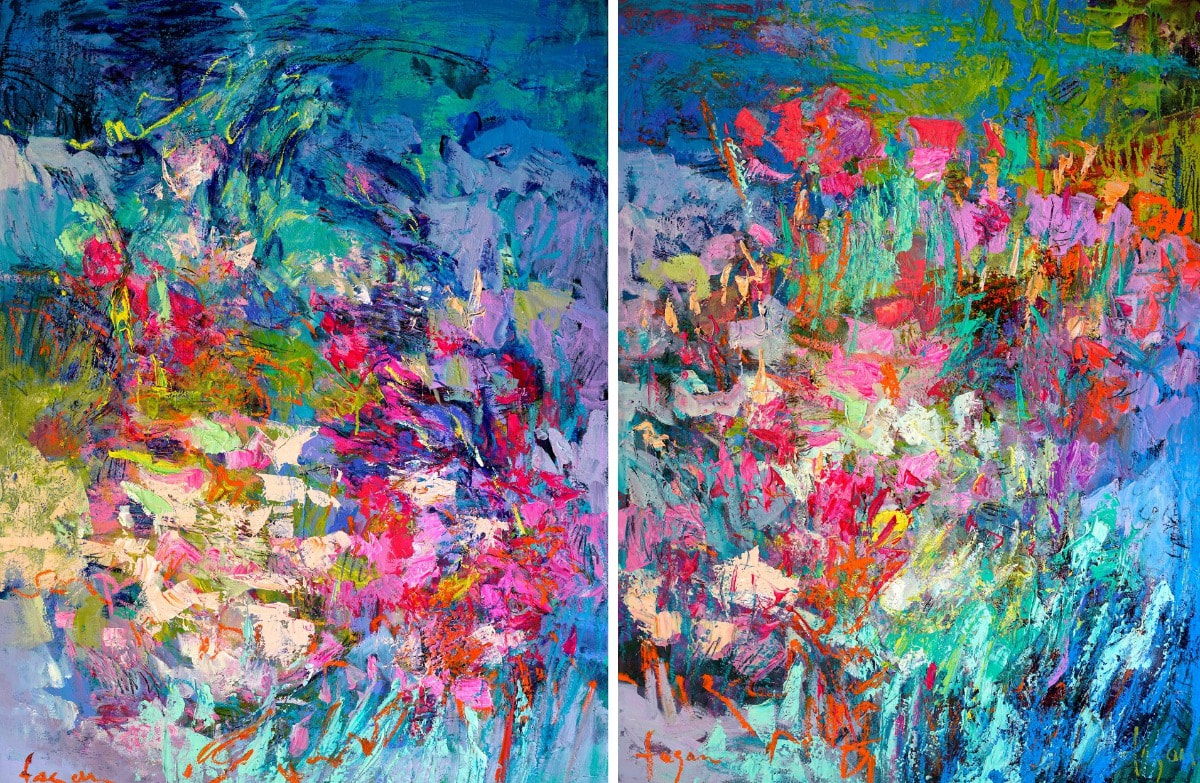 Forevermore (2022)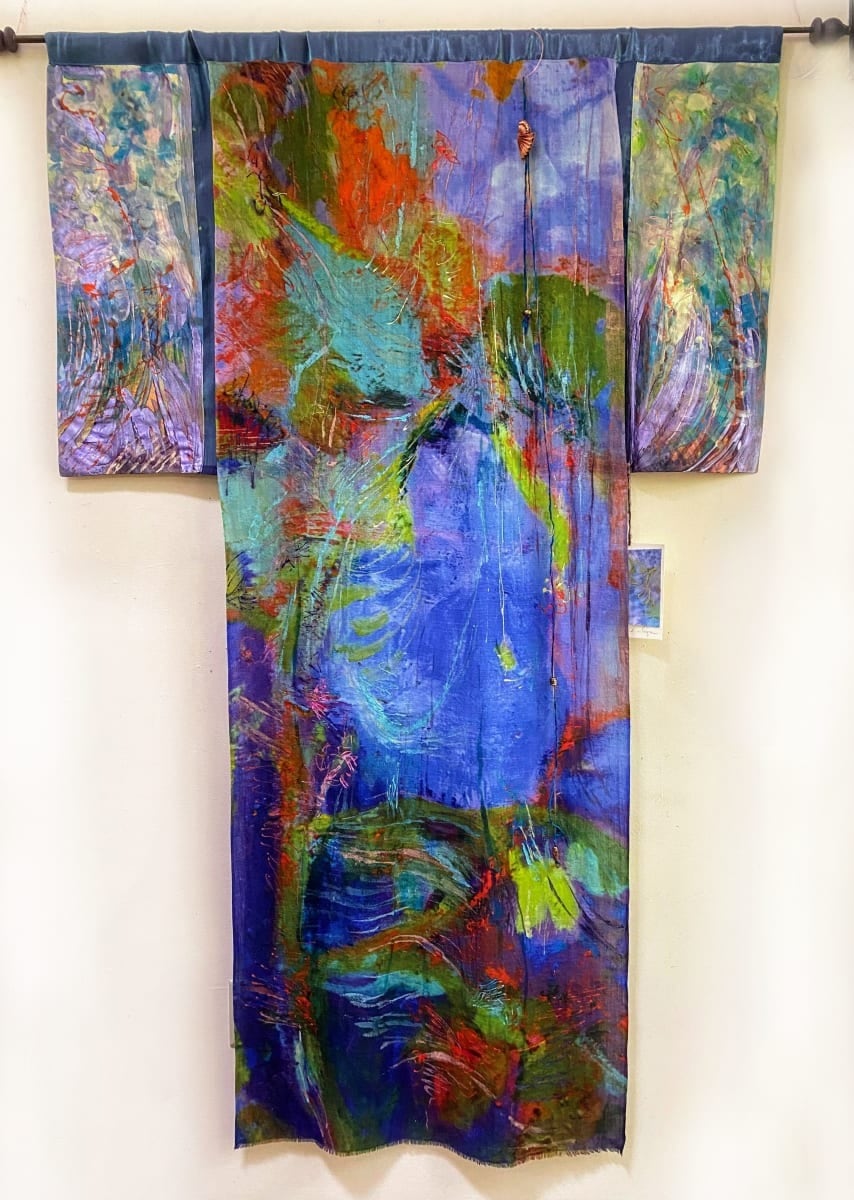 Truly I Never Doubted You (2022)