The Crossing
become part of the movement of the crossing, creating this new world together from the heart.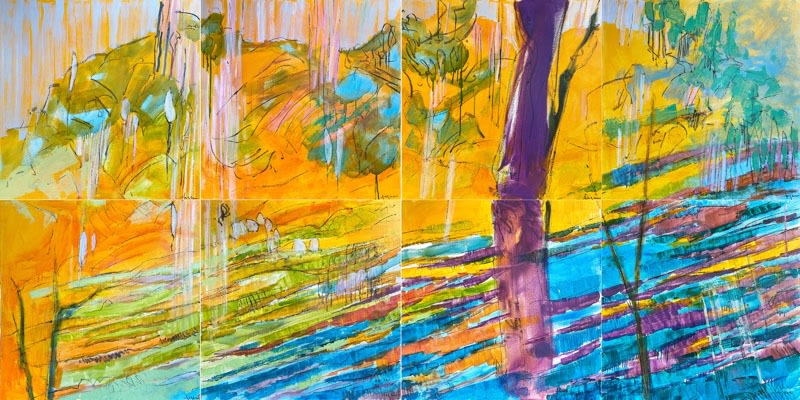 COMING TO THE RIVER: THE CROSSING
In a work of art five by ten feet, eight canvases juxtapose with a message of dynamic creativity and fusion for uplifting the coming days ahead.
"I CHOOSE TO BELIEVE THE CREATOR'S SACRED VOICE MIGHT SPEAK TO ME.
"The risk of not knowing if what I do will turn out ~ is small compared to the possibility that the creator might guide my brush.
"I release my DIS-ease and open my heart. fuse mind, body, heart, & spirit."
Reversing our perceived conception of how to create, Dorothy Fagan begins her paintings not with the head, but with her heart's desire to heal and uplift herself and others others along with her.
"I color without lines ~
and define myself in the flow."
Translating emotional signals of the Creator's pulses into black and white calligraphy of her scribbled handwriting, Dorothy draws with willow charcoal through wet oil paint on cotton fibers of her canvases, fusing herself as colorist, fiber artist, printmaker and painter to fulfill the purpose of her creative gifts.
One should either be a work of art, or wear a work of art!
Oscar Wilde
dressme 2020
milan fasion week
MADS GALLERY, MILAN, ITALYSeptember 18 - 30, 2020

BY CURATOR GEORGIA MASSARI
"Fagan's expresses the concept of the MADS DressME exhibition, as she interprets art as a way of 'wrapping ourselves in the colors of the light.' This light of which the artist speaks is visible in all her creations, a light that generates a mystical glow. Her art is powerful. She uses painting to release energy, imprint feelings and emotions on canvas. She uses a chakra-aligned palette that she applies on large canvases. After visiting France and Italy, she starts to follow intuitive dreams and nudges to explore the intersection between mankind and divine. Her art comes from her soul.
"Fagan's uniqueness is evident in the work composed of eight panels entitled, Coming to the River: The Crossing. The entirety of the work is certainly important, but so is the singularity of each panel, nonetheless individually complete. The concept that Fagan wants to express is that even though we belong to something bigger, being alone does not mean being complete. For this reason Fagan wants to divide Coming to the River ~ The Crossing into eight panels and sell them to eight individual buyers. Each of them will become part of the "movement of crossing into this new world we are creating together."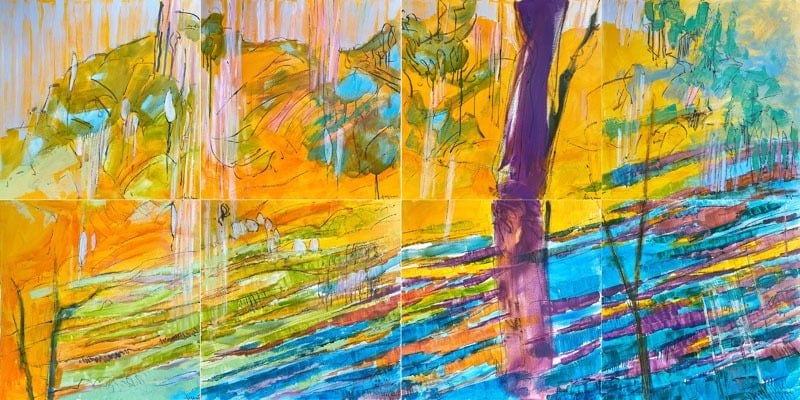 all media show
crossroads art center
RICHMOND, VIRGINIA
November 20 - December 31, 2020
1st Place by Juror Francis Thompson, contemporary art collection manager for JLL offices in North America.
Opening November 20, 2020 6:00 - 9:00 PM
Exhibition continues through Dec. 31. 2020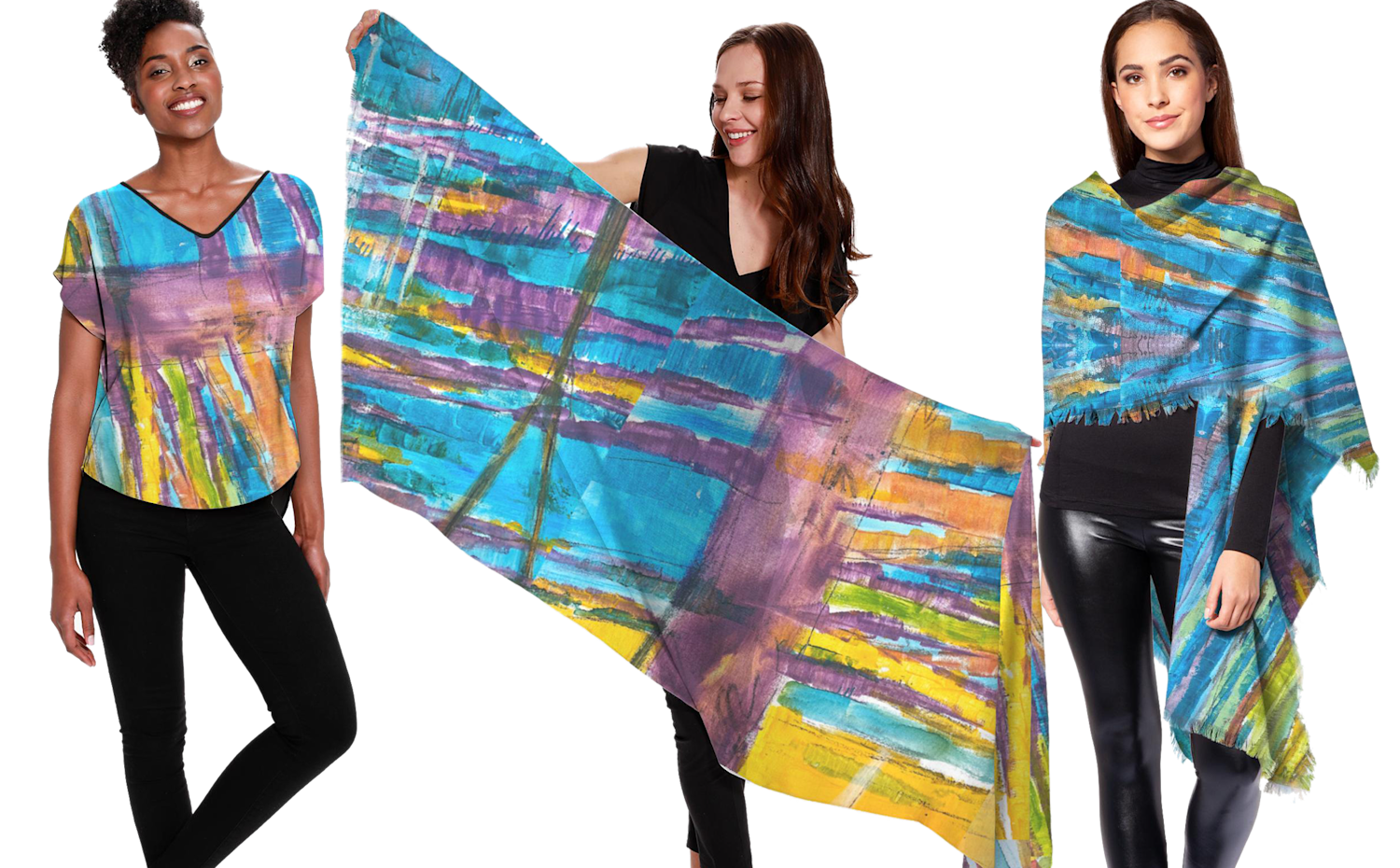 Pearl boutique
KILMARNOCK, VIRGINIA
Art to Wear including one-of-a-kind hand-painted scarves, botanic silk wraps, jackets, ruanas, and purses.
GALLERY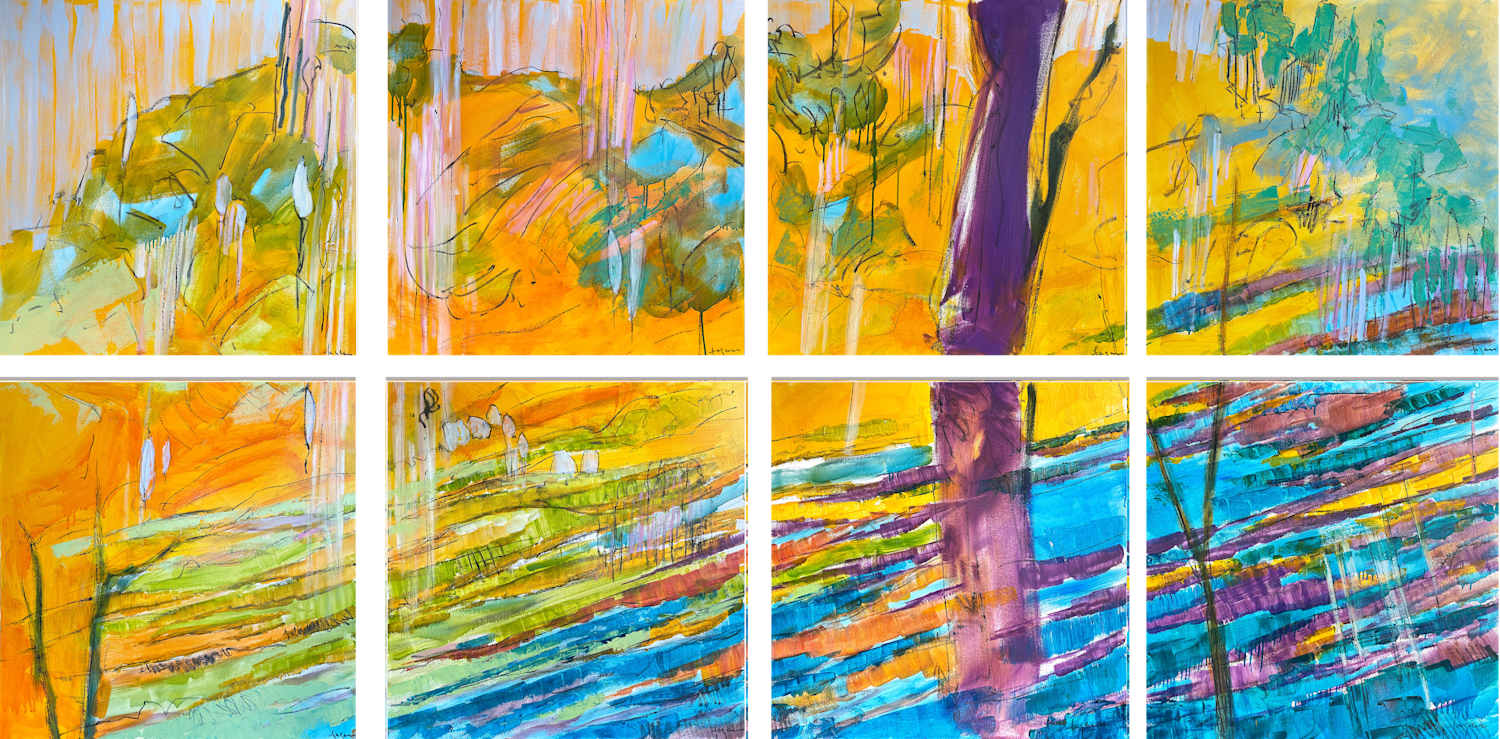 original oil painting
60" x 120", 8 canvases each 30"x 30",
$30,000.
limited edition of 10
60" x 120", 8 canvases each 30"x 30",
$7,000.
design your own
Energize your space with individual panels from The Crossing. 24", 30", 36", 40", 45", & 48" squares can be framed or displayed gallery wrap style.
shop the crossing
art collections online
A NEW
transformative PERSPECTIVE
.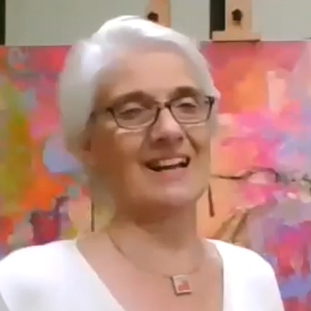 Rather than drawing first and coloring inside the lines ~ I begin by expressing how I feel in the present moment. I use the emotion of color first, to let those sacred feelings stuck inside me to flow.
THIS is the critical difference! Self expression releases stuck emotions, unblocking the flow of healing creative energy. One brush load of juicy color expresses far more than words could say in a lifetime!
As I spilled my fears, golden yellow orange instantly fluid on the canvas caused my second and third chakra energies to flow as well. With the stroke of a paint brush, potential Creative energy transformed me.
This releases angst, fear, and dis-ease I may have held inside me ~ and clears the way for the Creator to flow within.
Each chakra energy center along the spine corresponds to one of the colors in my ColorME Energized palette. Using this palette since 2013, sped my healing process, helped me discover the purpose of my artistry, and released any vestiges of old traumas.
Scribbling my signature calligraphy into the flow of now tangible emotions grounds the process into black and white lines and creates a new framework for me to expand into.

Indeed, those familiar with my art are witness to this expansion ~ from the ten inch plein air oil paintings of my France residency to The Crossing's ten foot scale and symbolic, multidisciplinary scope.
Transform emotions into creativity
Colorme energized palette
Colors of refracted light are translated into pigments in Dorothy Fagan's ColorME Energized palette. Each corresponds to a chakra energy center along the spine.
The heart center green is created by mixing Gamblin Manganese Blue (5th chakra/voice & self expression) with Gamblin Indian Yellow (2nd chakra/creativity) or Gamblin Lemon Yellow (3rd chakra/self confidence).
Fine tuning the exact color of the heart center is done by adjusting the balance of these colors. As the heart comes into balance in connection with mind, body, spirit, preferences for various green mixtures may change.
As this balance adjusts itself, opposite colors will be activated to further connect, balance, and magnify intuition (6th chakra/ ultramarine blue) and 7th chakra spirit (violet/ultra-violet). To create this range of colors, mix Quinacridone Magenta with varying amounts of ultramarine blue. These ultra-violet magentas may also be mixed with Cadmium Red primal (1st chakra/root) to balance heart, body, spirit.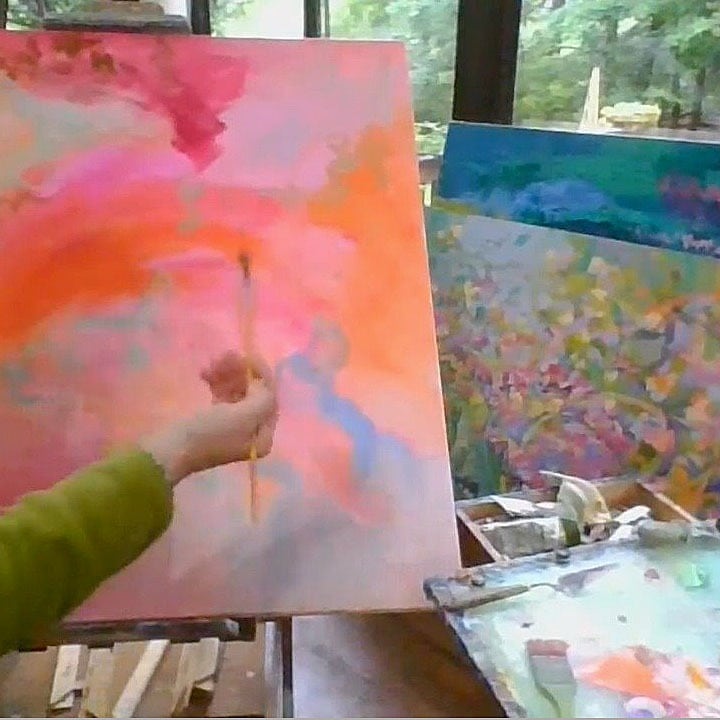 JOY'S GARDEN FACEBOOK GROUP
You are a creator ~ a point of light - the voice within directs you to make something for the world to see. The grace that love brings - hope, is in your hands and heart.
Create & Share Your Art in Any Media. Join The Wildflower Project in Dorothy Fagan's Joy's Garden Facebook Group.
get the colorme energized palette
oils
Align your palette to your chakra colors. Get the ColorME Energized palette for oil painting.
acrylics
Align your palette to your chakra colors. Get the ColorME Energized palette for acrylics.
watercolors
Align your palette to your chakra colors. Get the ColorME Energized palette for watercolors.
Dorothy Fagan
EXPRESSIONIST COLORIST ARTIST
Dorothy Fagan knew she would be an artist, when the nuns encouraged her to copy a picture of the Virgin Mary on the chalkboard. As a young mother, she won international recognition for her pastels at Pastel Society of America, Pastel Society of Canada, Copley Society, and the National Arts Club.
But when an assailant's knife threatened her life, Dorothy lost her ability to paint her delicate abstract landscapes. Inexpressible emotions screamed in silence. Her incredible healing art journey began as she learned to release emotions into strokes of color. And continued for thirty years, taking her to France and Italy, where she developed her ColorME Energized palette.
Studying painting as a child, Dorothy completed her B.F.A. in Printmaking and Painting at East Carolina University in 1974. In a ten-year American Masters Mentorship, Robert Bowers Mayo guided Dorothy to look inside herself in painting from her heart.
Fagan's art stands apart in collections including; Musee de La Grande Vigne, Dinan, France; Boston Children's Hospital, U Mass. Memorial Research Center, City University of New York, and Longwood University Art Museum.

facebook group
Create Your Art in Any Media & Share.
STAY UPDATED
Join Dorothy's studio by the pond and receive updates and inspiration.