the blessing
Faith is given the gift of a lifetime.
It's the stunning jewel she has prayed for.

And yet she still doubts.
Will she accept it this time?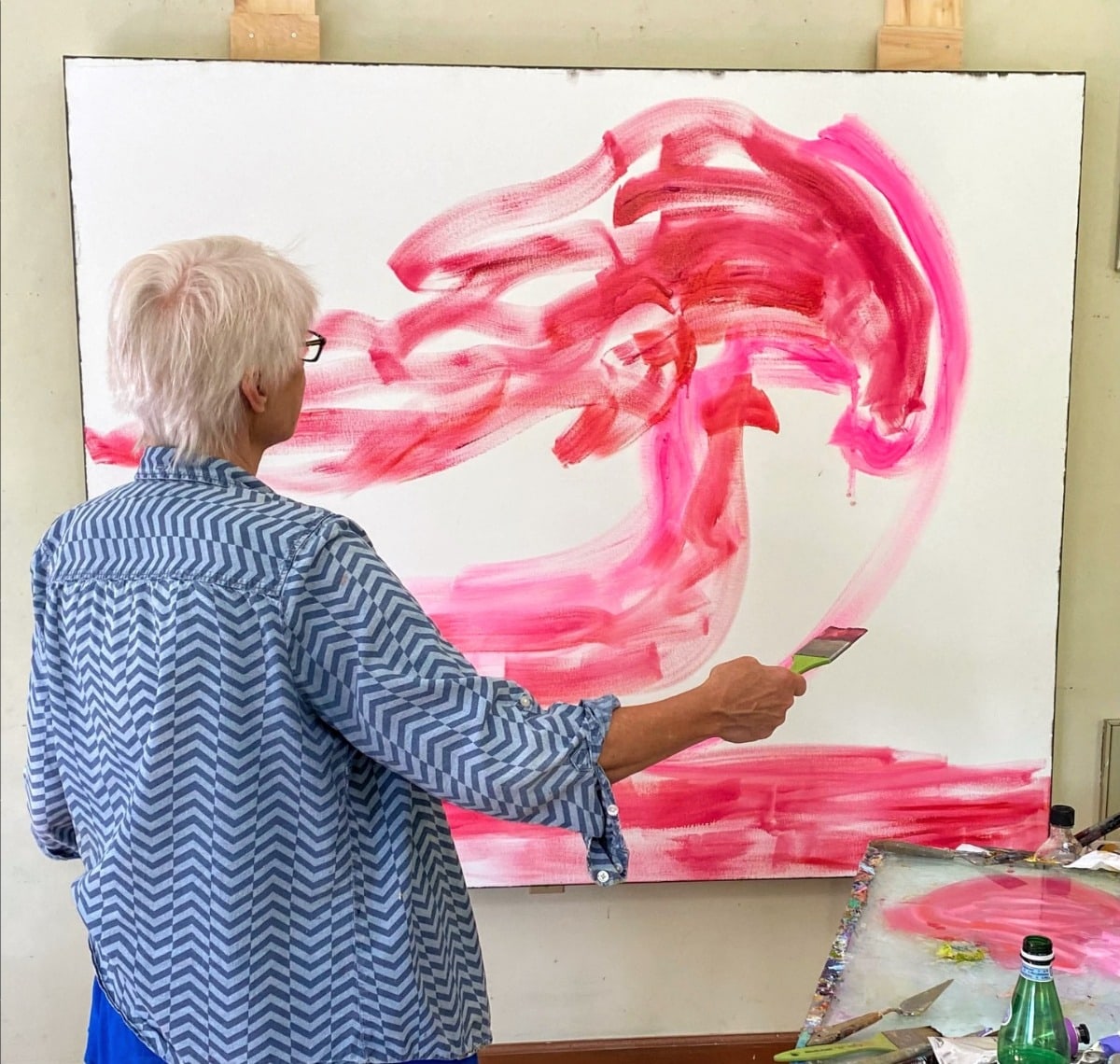 becoming faith.
I'd taken the name Faith as my own when I was confirmed. At twelve years old, they told me my name Dorothy, meant gift of God ~ so I was sure I'd change it as soon as I was old enough.
I got really good at so many things. But always seemed to get caught up somewhere. I'd lose my way in the process. Something would disconnect my flow. I'd paint over my paintings, trying to fix what seemed to me to need fixing. Was I trying to fix myself?
I never considered myself a poet. So as poetic phrases spilled from dreams onto pages of my journal, I thought nothing of it.
More recently however, painting titles grew longer demanding attention. Two-word subjects like Nesting Place grew into phrases like, And the Colors Shone Up From Within Her Heart. The yearning heart went on and on.
I just had to listen to her! For once before I die, I have to accept my yearning heart as a valid, valuable expression.
And this, my willingness to listen to her for once ~ uncorked the champagne!
Haiku bubbled out. Years shaken on a bumpy road, life experiences I'd perceived as trials and hardships shot up with gifts of artistry I only dreamed might be mine.
Haiku spilling out
trials and hardships bubbling up
artistry be mine


Yearning heart honor
her, accept her, give her voice
her dream might be mine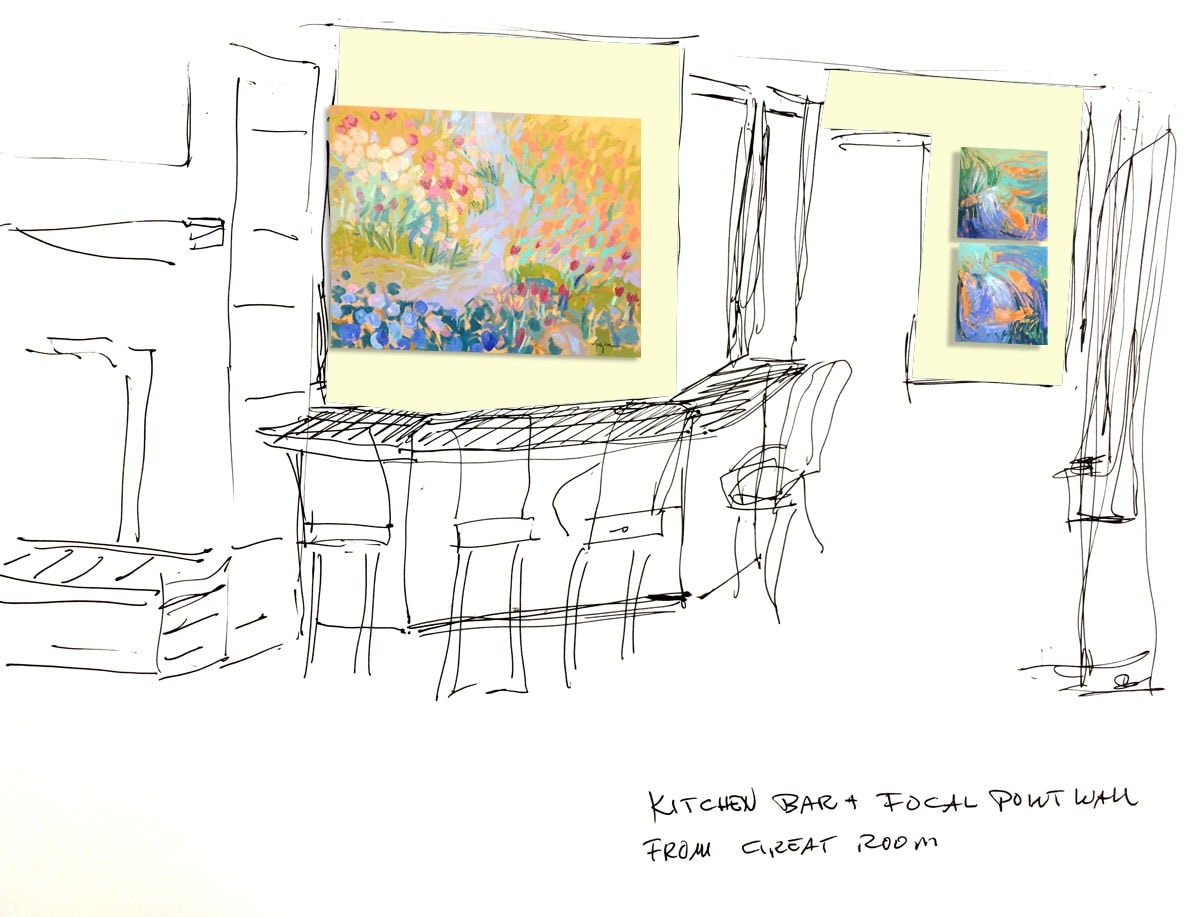 I must stop here and tell you of the renovations to my house. We are accustomed to thinking such things are not connected. Yet to leave out such an inspirational force as the analogies that have played out as my artistry has come home to roost in my heart of hearts ~ would be a great omission.
We came to "the river" in 2000, selling our antique brick city house for a little cedar cottage on the pond. An avid dream interpreter, I understood the move represented a new home for my consciousness.
In the antique brick house, traumas of past lives haunted my dreams. I'd stopped painting. At the river, I crossed into a new inspired state. I found the courage to pick up my paint brush, to rediscover the artist I thought I'd abandoned.
Paint my house now
make me beautiful, color
me embodied soul

Painting en plein air, I reconnected with Mother Earth. This helped me draw in energy and heal. Now after twenty years, the need for remodeling the 1984 kitchen parallels a need to remodel my creative kitchen as well. My creative kitchen feels too confining, it no longer serves my healed state of being.
Encapsulated
crawl space, with sacred presence
insulate my home
I set about designing a new kitchen. At first my plans were merely remedial, fixing broken things. I replaced appliances, repaired the roof and crawl space, and replaced the old heat press with new easels in the studio.
Then when the expansion capacity valve on my brand-new, energy-efficient studio heat pump spontaneously blew ~ I suspected I too was in for new capacity expansion!
Excited at the possibilities the Creator had in store, I envisioned moving the fridge, and removing cabinets from one wall in the kitchen. Wouldn't it be wonderful to create a big focal-point-art wall that would draw friends and family to a great big serving island?
The doorways bridging my newly-opened great room, kitchen, deck, and studio would enjoy a continuous flow!


I hear her singing
louder dear. I hear you now
tell me everything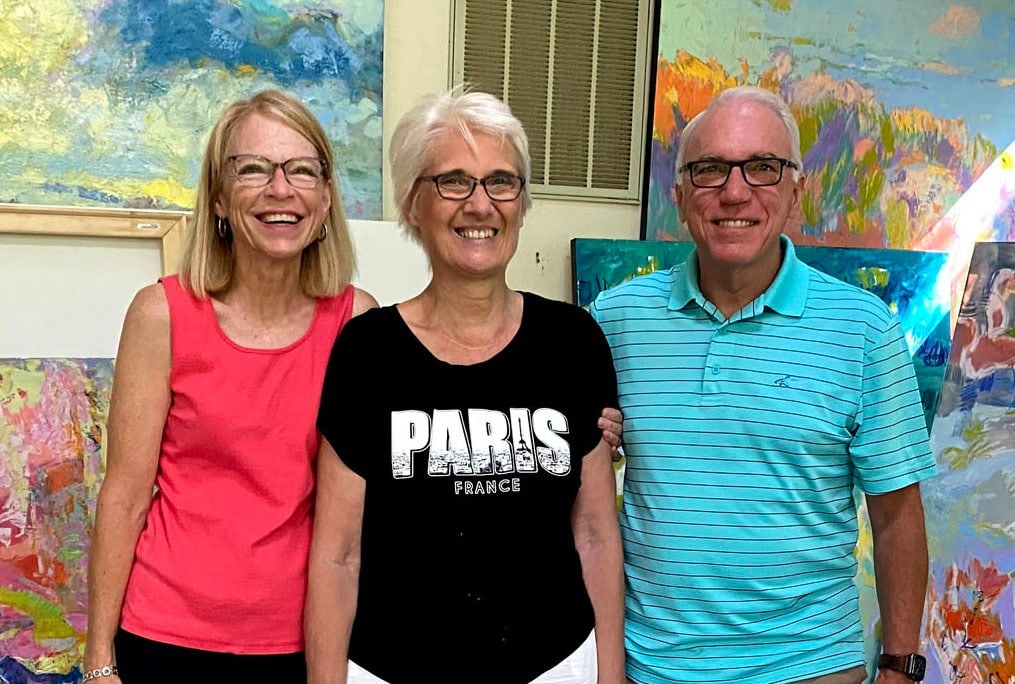 Julie and Steve's desire for a large, oversize painting for the great room of their new home began like many other commissions. However that's where the similarities ended.
Julie and Steve love walking on the beach at sunrise and sunset. They expressed to me the magnificence they felt every morning and evening walking in the Creator's colors and Light.
Meeting them first on zoom, we discussed their new home and how their commissioned painting would look in their new great room. I too, could feel their wish of bringing that Light into their new home.
Looking at their floor plans, I could envision the big wall in their great room. Anchoring the entire space; living area, screened porch, dining, and kitchen ~ they would even be able to peek at it from the master suite!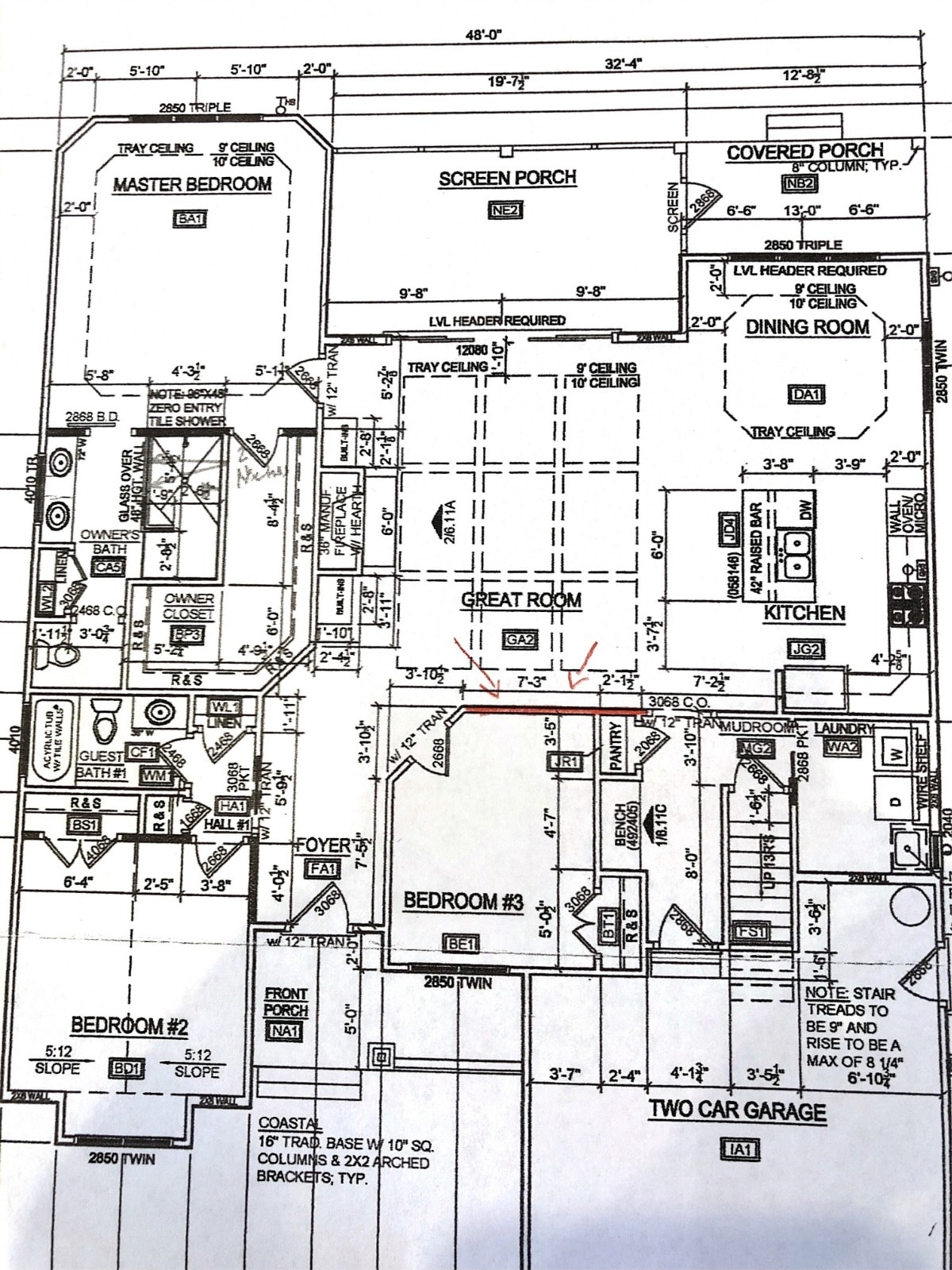 Yes! This painting will make everyone feel like they're walking into the Light of a stunning sunset on the beach!
They selected a 'wow' painting to inspire the palette. A WOW! painting is one that takes your breath away. It pops back to mind days later when you're least expecting it. This is the cornerstone of my color healing process, letting emotional colors touch your heart and soul.
Receiving the Creator's color signals is easier than you might think. Find instructions for how to do it here.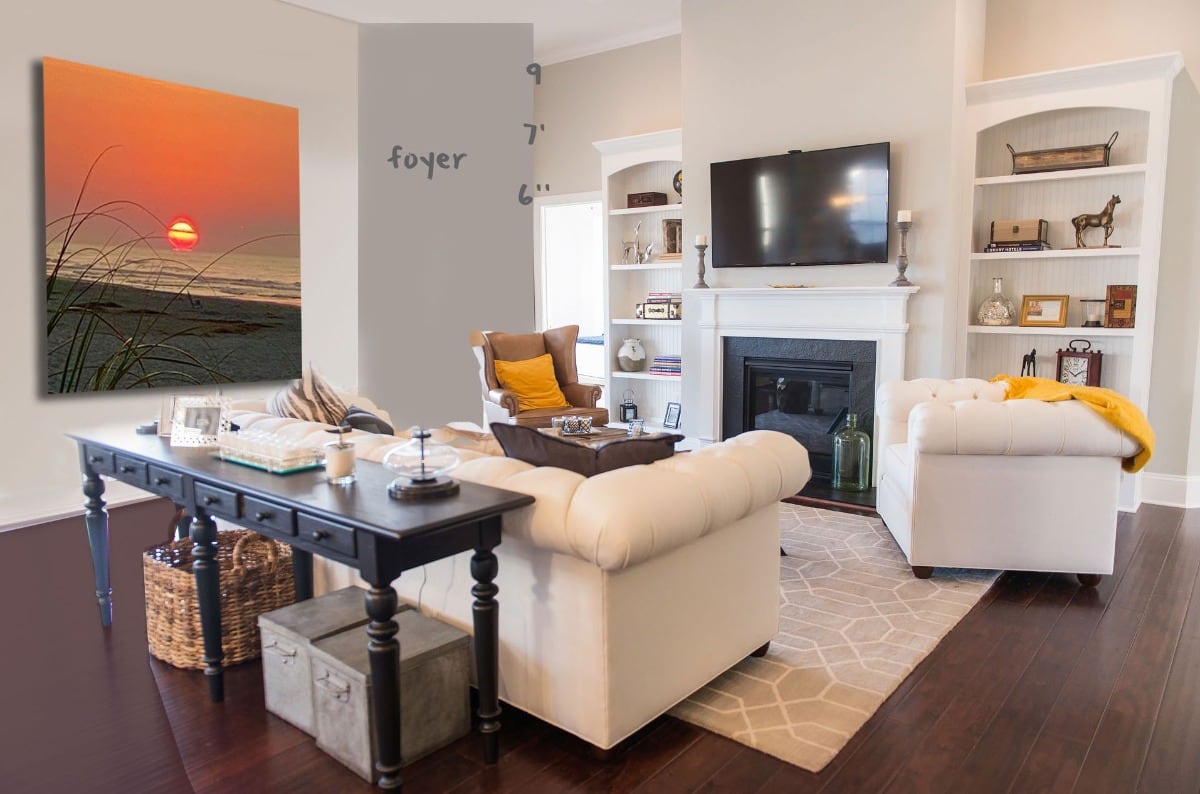 I used the builder's model photos to help them envision how their painting would look in place. We considered several size options and discussed how each would feel in the space.
My creative bubble expands exponentially to hold three souls. As they visit the studio, we take time to get to know each other, have dinner, share stories, and fall in love!

The commissioned painting must express the heart's desires of all three to be successful. Thus we embark on a collaborative creative journey.
Once the painting begins in earnest, I must be very still, so to feel the Creator's most subtle nudges. Following these, I painted alone for several weeks with only a few text messages going back and forth between us. Then I sent a video.
the Creator's nudge.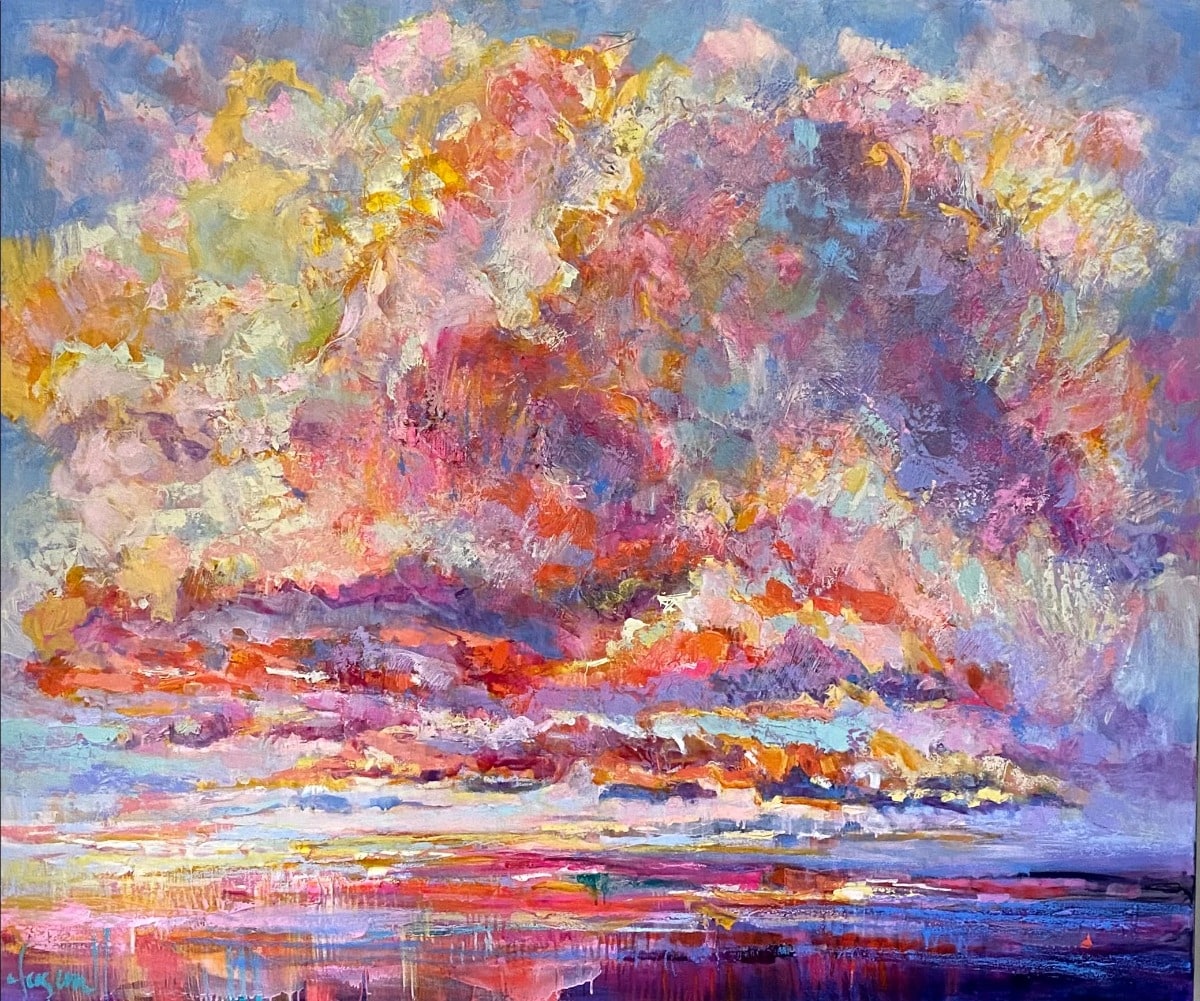 Julie was moved to tears. "It just takes my breath away so … my words can't explain the feelings that come ~ wonderous, breath taking, my heart and mind are just feeling it deeply!"
They paid the balance and we decided on framing and delivery for when their new home would be ready.
One doesn't paint on a sold painting ~ so I was not at all open to the Creator's nudges to change a thing!
And yet the nudging continued. 'Just tone down that hot spot,' urged my inner Creative voice.
'Should I ask permission?' I queried. 'No! Just do it and be Faith! They will still love you and what you create."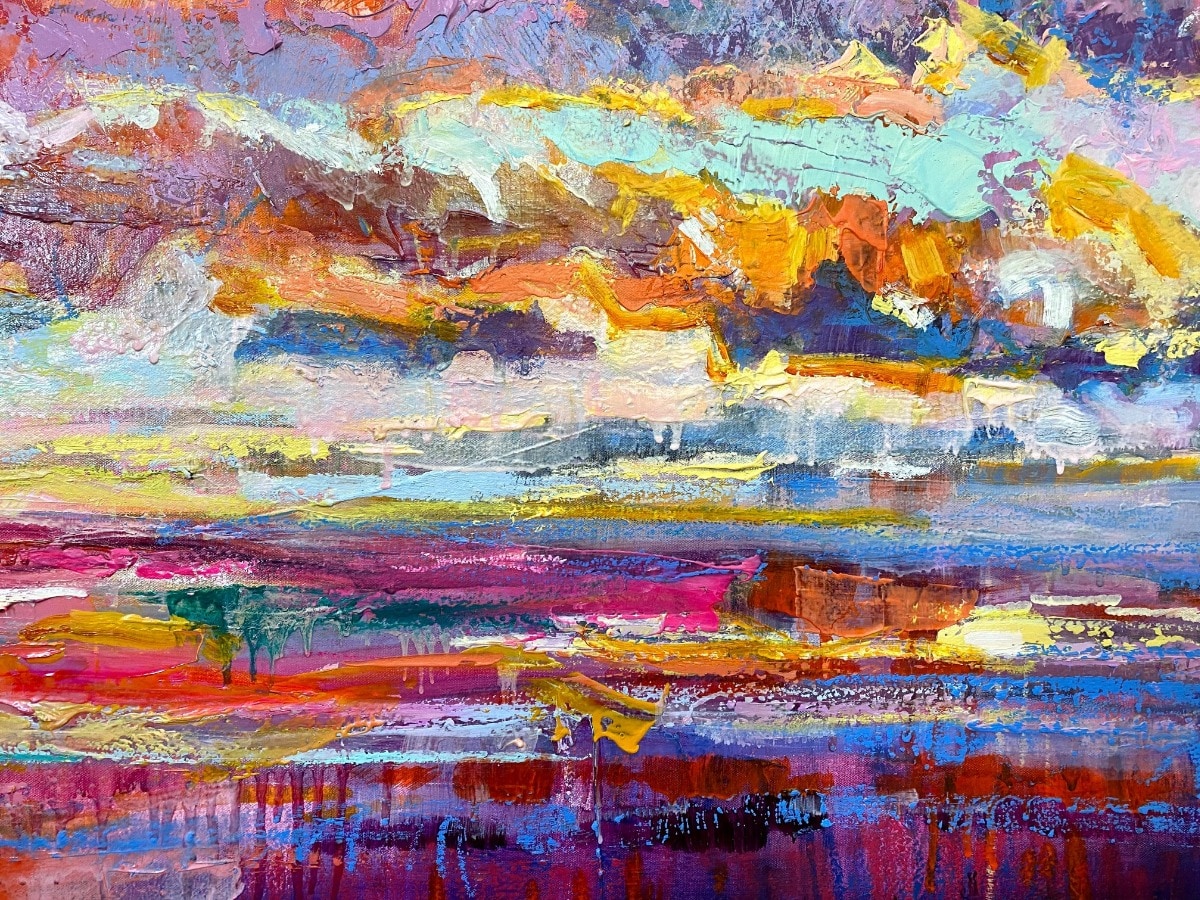 I slept on the Creator's suggestion for a few more days. I knew she was right. This was my choice to make.
And I chose Faith, to be her wholeheartedly, without any more angst or discussion.
I loaded up my brush and let her loose.
It took a week or two to follow all her instructions. (The Creator is a woman!) And when I stepped back to look newly after a weekend away, I feel all the goddess colors radiating from the center of the canvas.
Tears welled up filling me with passion from tiny voice at the center of my heart of hearts.
I stood before the painting and recorded my message to Julie and Steve about their painting. I texted the video.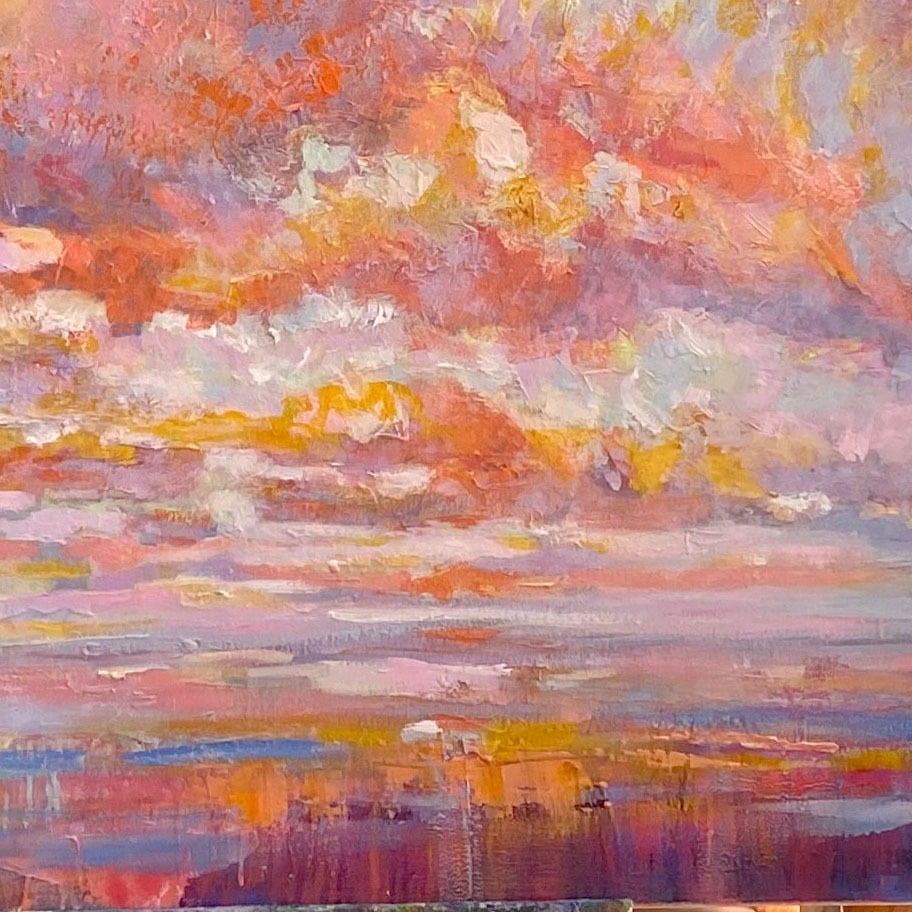 the blessing
In less than hour, Julie responded.
"Dorothy, I confess to you that I watched the video and what a quandary ~ should I answer you immediately or discuss it with Stephen? So I waited.
And I didn't tell him how I felt. (But I felt it's more beautiful than ever before.)
And those were the same words Stephen used!"
"So of course, Dorothy we love your work, we love you, your gift, and especially your listening to the Creator! Thank you again for the blessing!"
Sacred acceptance
promise of the gift shimmers
effervescent love
the gift of artistry.
All at once I feel compelled to share The Blessing with as many people as possible! (No more hiding in the shadows.) For every woman or man who ever dreamed a dream, my little story of The Blessing may be the nudge necessary to accept their Creator gifts once and for all.
The artist I see is unrecognizable. And yet it is a dream I've dreamed.
Subtle, yet vibrant colors layered in atmospheric light resonate through me as my eyes explore the canvas inch by inch. I ask myself, 'do I know this woman artist? Can she possibly create this again?'
Immediately, Faith answers more clearly than she's ever spoken, 'of course! What do you think we're here for?'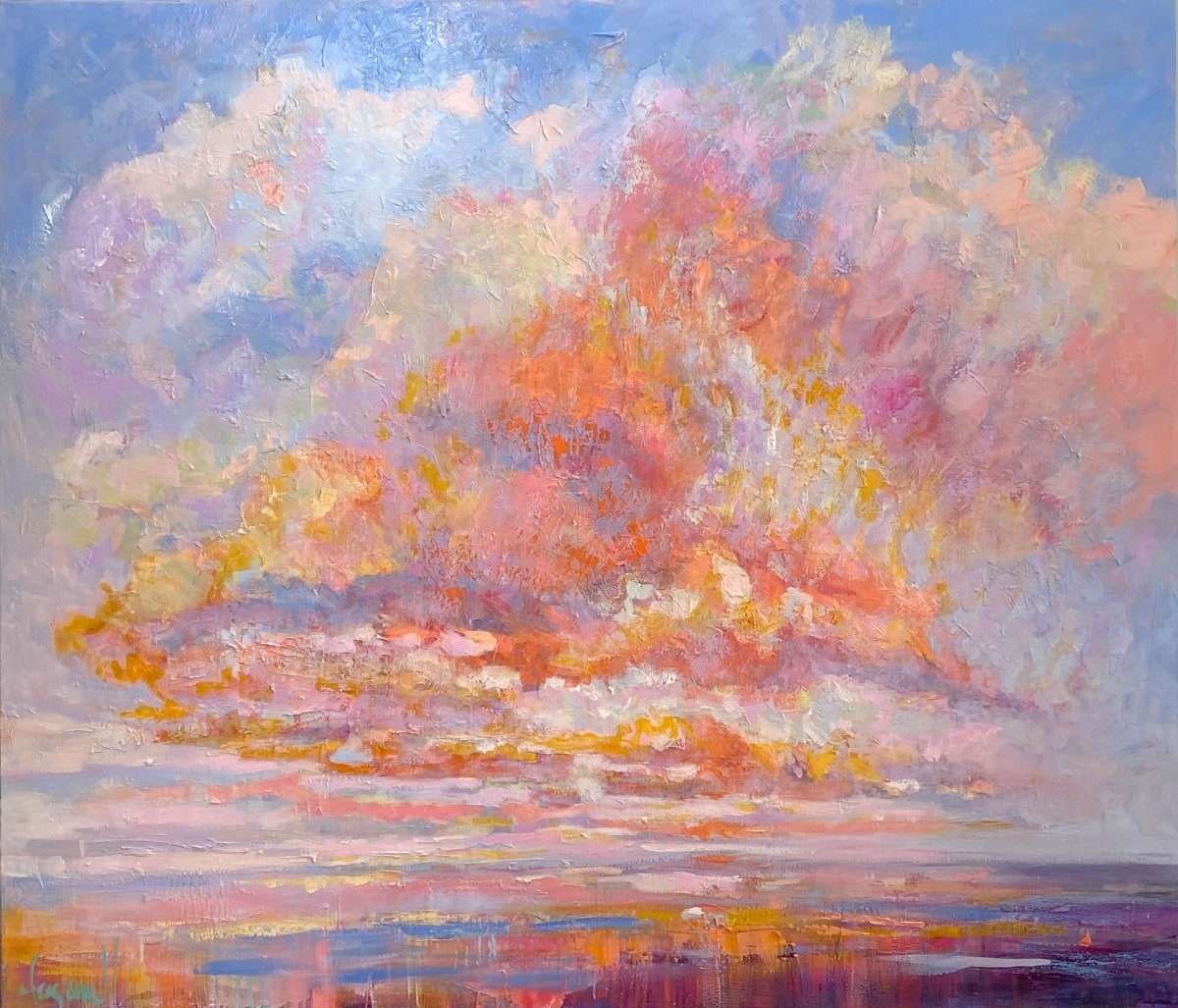 I offer The Blessing for the Creative in you. This stunning archival print is available on artist's canvas or watercolor paper in your choice of eight sizes.
I know oh so well, how easy it is to ignore the Creator's nudges. This painting is a daily reminder of the Creator's eternal glow within ~ a mirror of the soul.
Its colors flow from spirit to primal, oxygen to revive the Creative heart. Kindle Creative passion everyday. Treasure the Creator gift within by hanging The Blessing where it feeds you.
Will she accept Faith's gift?
The Blessing . . . from $85. gift size to large canvas for the wall
DOROTHY'S STORY
Learn how Dorothy used her paintbrush and a prayer to create her healing art and books.
faith's art prayers
Nurture Your Creative Voice
My new pantry is stocked, elevated, and held sacred by Faith herself. I pray that publishing Faith's haikus with my art, each Creative voice is blessed by acceptance.
Savor your favorite art prayer pleasures at my new kitchen table!